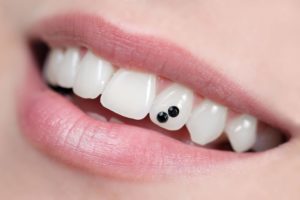 The application of tooth jewelry is a relatively recent trend among younger patients. Tooth jewelry is referred to as tooth gems, tooth diamonds, tooth jewels, etc. The term tooth jewelry is used to describe items as little as a small diamond, to a tooth cover, to a grill. However, there are certain dental considerations to keep in mind before deciding if tooth jewelry is for you.
How Is Tooth Jewelry Applied?
There are many brands of tooth jewelry and different ways to apply them or wear them on the teeth. The price varies wildly depending on the type of tooth jewelry, and the material used.
Grills
Grills or grillz are one type of tooth jewelry that is worn primarily by music artists. This tends to be the most expensive type of tooth jewelry due to the size and amount of material required. These grills can be made of base metals or be a combination of metal and gemstones or diamonds. The natural teeth are sometimes cut or reshaped to allow the grill to fit correctly. Grills are available as a permanent or fixed addition to your teeth, or as a removable option.
Tooth Gems
Tooth gems are small pieces of gemstones or diamonds that are placed directly on the tooth. Some applications of tooth gems require part of the tooth to be removed so that the tooth gem can fit into the newly created area of the tooth that was removed. Other types can be adhered or stuck directly onto the surface of the tooth without needing to remove or modify the tooth.
Dental Considerations
Professional Application By A Dental Professional
Make sure that a trained dental professional is applying the tooth jewelry. Some people may present a certificate which shows that they are a certified technician, and certified to place tooth jewelry. However, this is not the same as having a trained dental professional who is governed by a regulatory college.
Increased Risk Of Dental Decay
Plaque bacteria in the mouth has an easy time sticking to uneven surfaces. When tooth jewelry is added to a tooth, it is an uneven surface that plaque bacteria can attach to and cause cavities if not removed properly.
Bad Breath
If a grill is worn, it is hard to keep clean or clear of left-over food debris, especially if the grill is fixed or permanent. Food that is left in the mouth or under the gums causes bad breath.
Gum Disease
In addition to causing bad breath, if food cannot be adequately removed from under the gums due to wearing a fixed grill, gum disease occurs. Gum disease results in gums that are red, swollen and bleed easily.
Possible Allergic Reactions
Some of the materials used may cause an allergic reaction in some patients which irritates the gums.
Tooth Abrasion
The risk of abrasion or wear to teeth is increased when a grill is worn. This is especially true if the grill is not fitted correctly to the teeth.
Tooth Discolouration
Wearing a fixed grill, or wearing a grill for prolonged periods of time increases the risk of tooth discolouration. Residue from food and drinks that are not properly removed due to a grill causes staining over time.
Tissue Injury
Some oral jewelry or piercings may cause damage to the lips or soft tissue issues of the mouth.
While the trend is on the rise, many dental professionals have a hard time recommending teeth jewelry due to the possible negative dental impacts. However, if you want to accessorise your teeth, choosing a small tooth gem that requires no modification to your teeth is the safest option. Contact us if you have additional questions.
About Dr. Joseph Salvaggio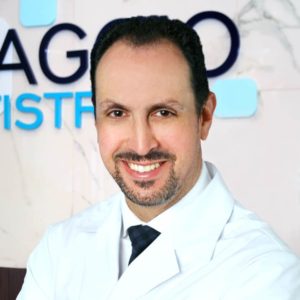 Located in Brampton, Ontario Dr. Joseph Salvaggio has been practicing general, cosmetic, and implant dentistry for over 20 years. He enjoys interacting with his patients and helping to restore their oral health for better overall health as well. Meeting new patients, interacting and educating them is one of Dr. Salvaggio's biggest joys. We encourage you to read our reviews or call us with any dental questions you have. We look forward to speaking with you and meeting you soon.