All-on-4 Dental Implants – Brampton, ON
Gain a New Smile in a Single Day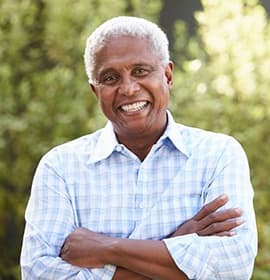 If you have lost a significant number of teeth, you may face numerous daily struggles. Your favorite foods may no longer bring you the joy they once did. You might find it difficult if not impossible to smile with confidence when you meet new people or attend special events. Take heart! All-on-4 dental implants in Brampton may be able to restore your smile in as little as one day. This innovative treatment solution is ideal for many patients who have suffered extensive tooth loss.
Why Choose Salvaggio Dentistry for All-on-4 Dental Implants?
Get a new smile in one day
Highly trained team of dentists
FREE consultation
How Do All-on-4 Implants Work?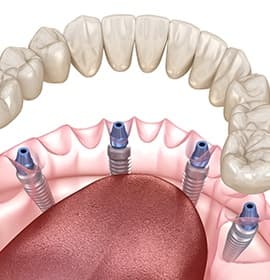 If we determine that you are a viable candidate for All-on-4 dental implants, you'll undergo the implant placement surgery. Two implants will be placed toward the back of your jaw, and two will be placed at the front — in locations where the bone is naturally thickest and strongest. On the same day that you receive the implants, you'll also get a temporary prosthetic to go on top of them. After your body has fully recovered from the placement surgery and the implants have bonded with the tissue around them, you'll receive your permanent new set of teeth.
Am I a Candidate for All-on-4 Implants?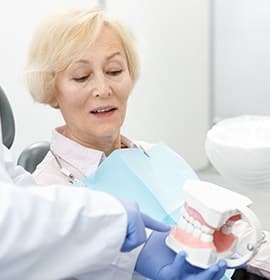 You may be a candidate for All-on-4 dental implants if:
You have lost all or most of your teeth.
You have adequate bone density in your jaw to support dental implants.
You are free of gum disease or other health conditions that could seriously affect your implants' chance of success.
You are tired of the hassles of living with traditional dentures.
If you would like to find out for sure whether All-on-4 is right for you, schedule a consultation with our team. Your dentist in Brampton will evaluate your oral health and talk to you about all of your treatment options so you can decide on the one that is best for your unique circumstances.
What Are the Benefits of All-on-4 Implants?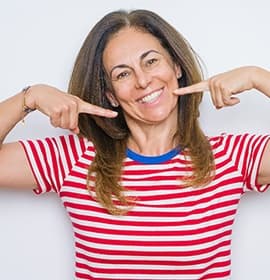 Here are some of the All-on-4 treatment's most outstanding advantages:
You can receive a new set of temporary teeth on the same day you receive your dental implants.
Your denture will be permanently attached to your implants. It will be extremely sturdy and provide you with a bite force that rivals that of natural teeth.
Caring for dental implants is easy. A thorough oral hygiene routine and regular dental visits will play a huge role in helping your new smile stand the test of time.
You can expect your permanent denture to be extremely natural-looking.
All-on-4 vs Traditional Dental Implants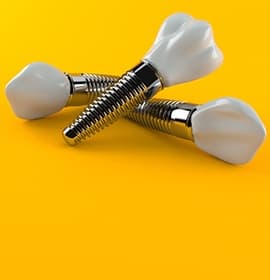 Both All-on-4 and traditional implants have their unique advantages; one treatment is not necessarily "better" than the other. The one that's best for you will depend on your unique mouth and personal preferences.
Some of the main differences between All-on-4 and traditional dental implants include:
Traditional implants can support a removable or permanent prosthetic. All-on-4 dentures are always permanently attached to the implants.
The All-on-4 procedure rarely requires a bone graft due to the strategic way the implants are placed.
All-on-4 may cost less because the procedure requires fewer dental implants than traditional procedures.
Traditional implants can replace any number of missing teeth, whereas All-on-4 is exclusively for full arch replacement.
The overall treatment timeline is often shorter with All-on-4 because it requires fewer surgeries than traditional implants.