Dental Checkups and Cleanings – Brampton, ON
Keeping Your Smile Clean and Healthy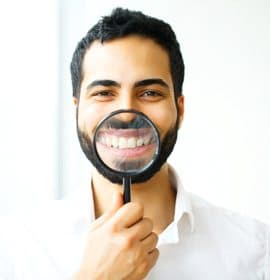 How long has it been since you've visited a dentist to get your teeth checked and cleaned? If it has been more than six months, you're missing out on all the wonderful benefits of having a healthy and clean smile. By seeing your dentist in Brampton twice a year, you can not only get your teeth professionally cleaned, but dental problems like cavities and gum disease can be diagnosed early on while they're still relatively easy to treat, saving you time and money in the long run. If you haven't had a dental checkup in a while, why not request an appointment at Salvaggio Dentistry today?
Why Choose Salvaggio Dentistry for Checkups and Cleanings?
Open Early, Late, and on Saturdays
Ready to Treat Children and Adults Under One Roof
Get Issues Like Cavities and Gum Disease Treated Early
What You Can Expect During a Dental Checkup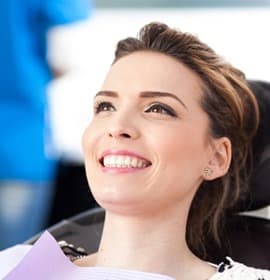 For the first portion of your appointment, one of our dentists will give your mouth a thorough once-over, checking every tooth and area of gum tissue for signs of tooth decay, gum disease, and even oral cancer. We will then take detailed x-rays to diagnose problems that can't be seen with the eyes alone, such as decay between the teeth and problems with your jawbone. After your oral cavity has been thoroughly examined, we'll go over our findings with you and, if needed, discuss a personalized treatment plan to help you achieve your healthiest smile.
What You Can Expect During a Dental Cleaning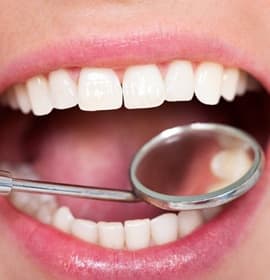 After you're done with the checkup portion of your visit, you'll be handed off to one of our skilled dental hygienists for your dental cleaning in Brampton. They will use special tools to clean the areas of your mouth that your toothbrush and floss at home can't always reach. These tools are also excellent for scraping away harmful plaque and its hardened form, tartar or calculus. After your teeth have been completely cleaned and flossed, the hygienist will polish your teeth until they practically sparkle. Then, they can apply a topical varnish of fluoride to provide an extra layer of protection against cavities that should last until your next biannual appointment. They can also recommend at-home oral hygiene products that will meet your unique dental needs.
Why Regular Visits Are So Important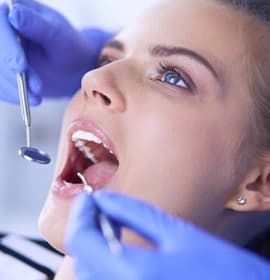 If you brush and floss every day and your teeth never bother you, you might be wondering why it's still necessary to visit the dentist every six months for a cleaning and checkup. The truth is that no matter how diligent you are in your dental hygiene routine, you're bound to miss some spots where plaque can accumulate. Bacteria in plaque can erode your tooth enamel and cause cavities. They can also irritate your gum tissue, resulting in gum disease. Attending your regular cleanings allows our team to eliminate plaque and keep your smile healthy.
Letting one of our dentists evaluate the state of your mouth is also crucial to your long-term oral health. More often than not, problems like cavities, gum disease, and oral cancer don't display symptoms until irreversible damage has already been done. At this point, treatment may become expensive and time-consuming. By seeing us twice a year for checkups, you can save time and money by letting us treat your dental problems before they cause serious damage.
Dental Cleaning FAQs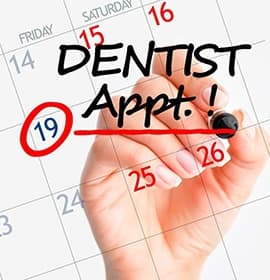 Do you have questions about receiving dental cleanings in Brampton? These visits are an essential part of preserving the health of your teeth and gums. For your convenience, we've answered some common concerns we receive from our patients below.
How often should I get a dental cleaning?
Professional dental cleanings are incredibly beneficial for your oral health. Today, dentists recommend getting one every six months, which is why many insurance companies cover the complete cost of two checkups and cleanings each year. However, if you have frequently occurring or common oral health problems such as cavities and gum disease, your dentist in Brampton may recommend more frequent preventive appointments to ensure that they don't cause permanent damage. In any case, it's always a good idea to ask your dentist in Brampton directly how often they would recommend a dental cleaning.
Why do I need to get dental cleanings?
As mentioned above, dental cleanings are a vital part of maintaining your oral health. There are hard-to-reach nooks and crannies in your mouth that you may not be able to reach with a regular toothbrush at home, which is why it's always good to be seen by a professional. If you don't, pockets of plaque could harden into tartar and create the perfect environment for harmful oral bacteria to thrive in. With these regular visits, you'll be able to maintain a healthy, beautiful, and fully-functional smile.
Does it hurt to get a dental cleaning?
Dental cleanings are typically not painful at all. However, some patients do have dental fear or anxiety that can cause their appointment to become nerve-wracking and scary. In these cases, our team at Salvaggio Dentistry may recommend sedation to help you feel more comfortable, relaxed, and stress-free throughout your appointment. That way, you can have a great experience in our treatment chair each time you come.
How do I keep my teeth clean after my dental cleaning?
Keeping your teeth healthy and clean in between your routine cleanings is fairly easy. The American Dental Association recommends following these basic guidelines:
Maintaining a nutritious diet
Brushing your teeth with fluoride toothpaste for two minutes, at least twice each day
Rinsing with antibacterial mouthwash once each day
Flossing every day
At Salvaggio Dentistry, we also offer various preventive treatments, such as nightguards for bruxism, sports mouthguards, fluoride treatments, and gum disease treatments to help keep your teeth healthy. These procedures are especially great for patients who frequently get oral health problems.