Nitrous Oxide Sedation – Brampton, ON
Sit Back & Relax During Your Visit
Do you get anxious when you think about going to the dentist's office? Do you find it physically uncomfortable to sit in the examination chair for one reason or another? If so, you're not alone. Many patients experience these setbacks, which can often negatively impact their oral health. Fortunately, at Salvaggio Dentistry, we can help you overcome your fears with calming nitrous oxide dental sedation in Brampton. This gentle form of sedation has been used in dentistry for decades, and it may be able to help you sit back and relax during your visit while your smile gets the care it needs. Read on to learn more or give us a call today!
Why Choose Salvaggio Dentistry For Nitrous Oxide Sedation?
#1 Team of 3 Highly Experienced Dentists Focused on Your Comfort
#2 Open Late & On Saturdays for Convenient Appointments
#3 Wide Variety of Treatments All Under One Roof
Who Is a Good Candidate for Nitrous Oxide Sedation?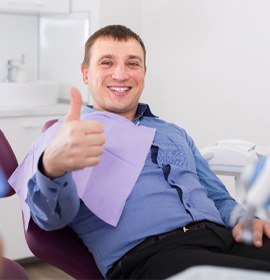 It is believed that more than 75% of adults have some sort of dental anxiety. While fear of pain typically tops the list of reasons people avoid the dentist's office, there is also the added worry of facing judgment because of the status of your current oral health. Nitrous oxide is ideal for patients who experience dental fear or anxiety, but it can also be used to help in many other situations. Oftentimes, we may recommend nitrous oxide dental sedation for patients who:
Need a little bit of help relaxing in the examination chair
Have an overactive gag reflex or very sensitive teeth
Do not typically respond well to numbing medications alone
Experience neck, back, or jaw pain while sitting in the examination chair
Will be having several treatments completed in one appointment
Will be undergoing a particularly long or complex procedure
How Does Nitrous Oxide Sedation Work?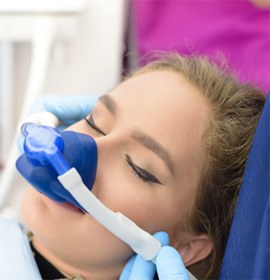 Once we've ensured that you're a good candidate for nitrous oxide sedation and you arrive at your scheduled appointment, we'll place a small mask over your nose. After only a few moments of breathing in the colorless, odorless gas, you'll begin to feel light and tingly. Your worries will melt away and you will feel completely relaxed. You may even begin to find inconsequential things funny, which is why nitrous oxide is sometimes called laughing gas!
Once you're comfortable, we'll get to work. While you will remain conscious with nitrous oxide sedation, you will be oblivious to the sights, sounds, and sensations that would typically cause you discomfort. Our team will monitor your heart rate and breathing closely the entire time. If needed, we'll be able to adjust your level of sedation at any moment. We'll remove the nose mask at the end of your treatment.
Aftercare for Nitrous Oxide Sedation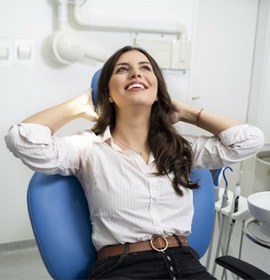 One of the most popular benefits of nitrous oxide dental sedation is that it won't interrupt your day. Once we've removed the facemask and you've had a few minutes to breathe in regular air, you'll return to your normal level of alertness. In fact, you'll be all set to drive yourself home and continue on with work, school, or whatever you have planned for the rest of your day.