Root Canal Therapy – Brampton, ON
Safe & Effective Pain Relief
If you have a bad toothache that just won't go away, then it's likely that it has developed an infection in the dental pulp. This is a small bit of soft tissue located at the center of each tooth, and in addition to many other things, it also contains sensitive nerves. Root canal therapy is able to repair teeth with this kind of damage and quickly relieve the associated pain, all while causing a patient virtually no discomfort (despite what you may have seen in movies or on TV). If you're ready to finally live a life without dental pain, then a root canal might be exactly what you need.
Why Choose Salvaggio Dentistry for Root Canal Therapy?
3 highly-experienced dentists under one roof
Same-day appointments available for fast pain relief
Extended hours mean we're always ready to help
Why You Shouldn't Fear a Root Canal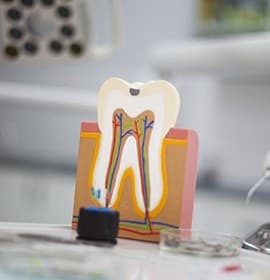 When you come to see us with a hurting tooth, we'll give you a quick exam, and if we determine that you could benefit from a root canal, the procedure will follow a few basic steps:
Your tooth and surrounding area will be numbed with local anesthetic.
Your dentist will create a small hole in the enamel so they can access the infected pulp.
The pulp will be removed, and then the inside of the tooth will be cleaned and filled.
A temporary restoration will be placed on the tooth, and at a follow-up appointment, you'll receive a brand-new crown.
The pain often associated with root canals actually stems from the infections they're intended to treat. Most patients compare the actual treatment to just getting a small filling, not the excruciating experience you've been led to believe!
After undergoing a root canal, your tooth will feel a little tender, but it will be much better than when you came to see us. Within a few days, you'll feel like nothing was ever wrong with your tooth, and it should be able to look and function like normal for many years to come.