Tooth Extractions – Brampton, ON
Painless Removal for Problem Teeth
At Salvaggio Dentistry, we have one primary goal: to help our patients keep and maintain their natural teeth for as long as possible. However, in cases where a tooth is simply damaged beyond repair, an extraction may become necessary. We only use this treatment as a last resort, and should you ever need one, you can trust we'll do everything we can to ensure your comfort. And, if necessary, we can help replace the tooth right away, so you'll spend as little time as possible with an incomplete smile. We'll do our best to take the stress out of the situation at every opportunity.
Why Choose Salvaggio Dentistry for Tooth Extractions?
All extractions performed in-house
Patient comfort is priority #1
Extended hours: Get the care you need when YOU need it.
Why You Might Need a Tooth Extraction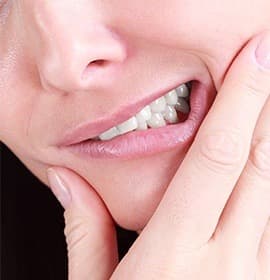 Extracting a tooth is never our first choice, but simply removing a problem tooth is often the best solution for:
Excessive decay that has damaged more than 2/3rds of a tooth.
Physical trauma that has made the enamel unable to support a restoration.
An advanced infection that has weakened the bone needed to hold a tooth in place.
A stubborn baby tooth that is preventing the adult version from coming in correctly.
Fortunately for our patients, when we extract a tooth, there is absolutely no pulling involved. Rather, we start by numbing the area, and then we gently grip the tooth with a pair of dental forceps. We then rock the tooth back and forth, and before you know it, it slips out on its own. This approach is so smooth that most patients don't even feel their tooth coming out!
While a patient may experience a little oral soreness for the first few days after an extraction, they should feel completely normal and be able to resume their regular diet and daily routine in less than a week.
Tooth Extraction FAQs
Do you want to know more about dental extractions? Our expert team at Salvaggio Dentistry has answered some of the most common questions about tooth removal below. We know extractions can seem slightly scary, so we hope this FAQ section helps ease any nerves by addressing your concerns or curiosity. Whether you are a returning or new patient, feel free to give us a call if you have additional questions!
When Is Wisdom Tooth Extraction Necessary?
By the time wisdom teeth arrive during adolescence or early adulthood, there is often not enough space for them in the mouth. In many cases, wisdom teeth become impacted, which means they grow in at an odd angle or fail to completely erupt. Impacted wisdom teeth can lead to swelling, tenderness, and persistent mild pain, which is why many adults opt to remove them. They can also cause overcrowding and increase the risk of oral infections.
What's the Difference Between Local Anesthesia and Sedation? Can I Be Put to Sleep?
Both local anesthesia and dental sedation are utilized to help ensure patients feel comfortable throughout dental procedures. However, there are important differences between the two.
Local anesthesia is used by dentists to numb a small area of the mouth to prevent pain. Applied either topically or via injection, this type of anesthesia is often used for simple tooth extractions.
In addition to controlling pain, sedation can also be used to ease dental anxiety or help young patients who have trouble sitting still for long periods of time. There are several different forms of dental sedation, including oral conscious sedation, nitrous oxide, and IV sedation.
While most tooth extractions do not require the patient to be put to sleep, dental sedation may be used for more complex extraction cases or if requested by the patient.
What Is Recovery Like After a Tooth Extraction?
You can expect to fully recover from a tooth extraction in about 7 to 10 days. You may experience some swelling and mild pain immediately following the extraction procedure. However, taking pain medication as directed by your dentist and applying an icepack to your face can help reduce any discomfort.
Practicing good oral hygiene is important to prevent an infection from occurring around the extraction site. Gently rinse with lukewarm water to help clean the area. When you brush and floss your teeth, be sure to avoid the area where your tooth was removed.
Finally, stick to eating soft foods like soup, applesauce, and yogurt for the first few days following an extraction and avoid drinking through a straw.
Should I Replace My Missing Tooth After Extraction?
Replacing a missing tooth can not only boost your appearance but also benefit your oral health. When a tooth goes missing or is removed, nearby teeth can gradually shift into the remaining gap. Dental drift can contribute to bite problems and increase the risk of gum disease and tooth decay. At Salvaggio Dentistry, we offer a variety of restorative options to replace missing teeth, including partial and full dentures, bridges, and dental implants.
How Much Is a Consultation?
At Salvaggio Dentistry, we are happy to offer free consultations for tooth extractions. During this initial visit, one of our highly-skilled dentists will perform a careful examination to determine if any damaged or infected teeth need to be removed. If a dental extraction is recommended, your dentist will give you more details about the process and answer any questions you may have.
Do You Accept Dental Insurance for Tooth Extractions?
We accept most major dental insurance plans and will even file the insurance claim paperwork on your behalf so you do not have to worry about the hassle! While every plan is different, most dental insurance providers cover 80% of the cost of basic services like tooth extractions. If you have questions about your specific policy, do not hesitate to ask our staff. We are always happy to help customers navigate the particulars of their dental insurance plan and maximize their benefits.