Tooth Extractions – Brampton, ON
Painless Removal for Problem Teeth
At Salvaggio Dentistry, we have one primary goal: to help our patients keep and maintain their natural teeth for as long as possible. However, in cases where a tooth is simply damaged beyond repair, an extraction may become necessary. We only use this treatment as a last resort, and should you ever need one, you can trust we'll do everything we can to ensure your comfort. And, if necessary, we can help replace the tooth right away, so you'll spend as little time as possible with an incomplete smile. We'll do our best to take the stress out of the situation at every opportunity.
Why Choose Salvaggio Dentistry for Tooth Extractions?
All extractions performed in-house
Patient comfort is priority #1
Extended hours: Get the care you need when YOU need it.
Why You Might Need a Tooth Extraction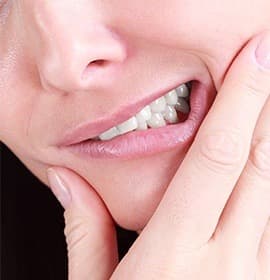 Extracting a tooth is never our first choice, but simply removing a problem tooth is often the best solution for:
Excessive decay that has damaged more than 2/3rds of a tooth.
Physical trauma that has made the enamel unable to support a restoration.
An advanced infection that has weakened the bone needed to hold a tooth in place.
A stubborn baby tooth that is preventing the adult version from coming in correctly.
Fortunately for our patients, when we extract a tooth, there is absolutely no pulling involved. Rather, we start by numbing the area, and then we gently grip the tooth with a pair of dental forceps. We then rock the tooth back and forth, and before you know it, it slips out on its own. This approach is so smooth that most patients don't even feel their tooth coming out!
While a patient may experience a little oral soreness for the first few days after an extraction, they should feel completely normal and be able to resume their regular diet and daily routine in less than a week.