Dental Implants — Brampton, ON
The Most Complete Tooth Replacement
For patients who are serious about addressing their tooth loss, they should really only consider one treatment: dental implants. In short, they are the most advanced replacement available today, able to deliver the strongest, best looking, and most durable results by far. With them, it won't just feel like you've replaced your teeth, it will feel like you've gotten your real teeth back. To learn more about implants and how we can use them to rebuild your smile, contact Salvaggio Dentistry today.
Why Choose Salvaggio Dentistry For Dental Implants?
Entire Procedure Performed Under One Roof
FREE Dental Implant Consultation
Seamlessly Replace Any Number of Missing Teeth
What Are Dental Implants?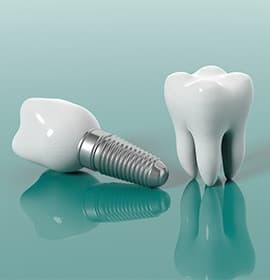 Dental Implants are the only tooth replacement option that can replace the entire missing structure of a tooth, not just the visible portion above the gumline. A dental implant is comprised of three parts: an implant post, abutment, and final restoration. The dental implant post is surgically inserted into your jawbone to mimic the roots of your missing tooth. On top of the post is a small connector piece called an abutment, which fastens your final restoration in place. Your final restoration will be a custom-made crown, bridge, or denture depending on the extent of your tooth loss. Rebuilding your pearly whites from the roots up gives you a smile that looks, feels, and functions just like natural. That's why they're widely considered to be the gold standard of tooth replacement!
The 4-Step Dental Implant Process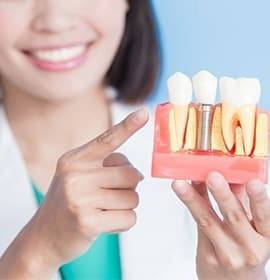 Our team has received advanced training to perform the entire implant procedure right here at Salvaggio Dentistry. This saves our patients time, money, and stress because they can get everything they need in one place while working with the same team the entire time. If you're interested in learning how dental implants work, allow us to provide greater detail below.
Initial Dental Implant Consultation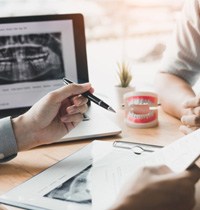 You will first schedule a consultation with your implant dentist to determine your candidacy for treatment. There will be a thorough evaluation of your oral and overall health as well as your jawbone density. If it is discovered that you require preliminary treatment before undergoing dental implant surgery, we will recommend periodontal therapy, bone grafting, or even tooth extraction depending on your needs.
Dental Implant Surgery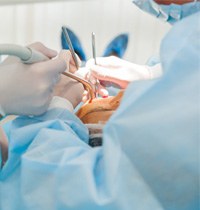 Since Salvaggio Dentistry can place dental implants in-house, you do not need to worry about seeking a referral. Instead, you will arrive on the day of your procedure to receive local anesthesia. This will help you become more comfortable and feel no pain. After making one or more small incisions in your gums, we will place each implant post, accordingly, ensuring they are properly in place. We'll then close the tissues and send you home to begin the recovery process.
Dental Implant Osseointegration/Abutment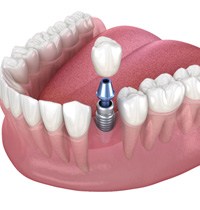 Over the next 3-6 months, you will follow detailed instructions from our team so that your implant posts and bone tissues can fuse. This is s a process known as osseointegration, which is necessary for the success of dental implant placement. After you've fully healed, you'll return to our office to have your metal abutments put into place, as they will serve to connect the implant post with the customized restoration.
Delivery of Dental Implant Restorations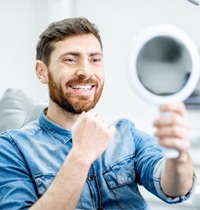 The last step in this series is to receive your finalized restoration. This might be a crown, bridge, or denture depending on how many teeth you need to have replaced. Once it is secured, you will be free to enjoy life with your new smile. Although it might take a bit of adjusting, you should face no real problems or issues once your restoration is in place.
Benefits of Dental Implants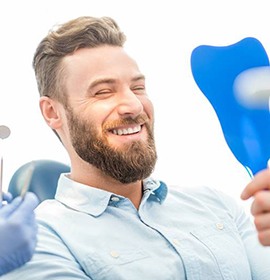 Thanks to their unique placement, dental implants offer a wide range of important benefits you simply can't get with other tooth replacement options. From your day-to-day life to your overall health, dental implants surpass dentures and dental bridges in every way.
Stay Looking Young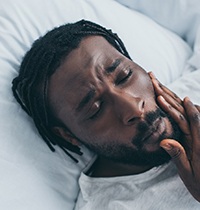 Because dental implants replace the roots of your teeth as well as the crown, your jawbone receives the stimulation it needs to remain strong and hold your facial muscles in place. When you're missing teeth and don't get them replaced with implants, your jawbone begins to deteriorate and the muscles of your face start to droop, making you age prematurely. With dental implants, you can stay looking your age or even younger!
Eat a Healthy, Well-Balanced Diet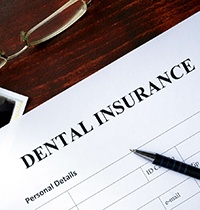 People who are missing teeth or are stuck with an ill-fitting prosthetic often have to stick to soft foods, which aren't usually the healthiest options. Since dental implants feel just like your natural teeth and provide ample support, you should be able to eat as many healthy, crunchy foods as you like, such as fresh fruits and vegetables. As a result, implants help improve not only your oral health, but your general health as well.
Preserve Your Remaining Teeth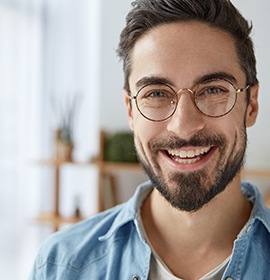 In addition to keeping your face looking youthful, dental implants also keep your jawbone strong. A deteriorating jawbone puts you at risk for further tooth loss, so dental implants allow you to keep the teeth you have left for longer. They also prevent your remaining teeth from drifting out of place.
Practice Easy Maintenance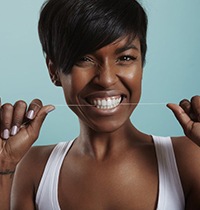 Believe it or not, you don't have to take any special care of your implants beyond what you would give to your natural teeth. Simply brush and floss around your implant restoration every day just like you would if you still had all the teeth you were born with. Also, attend regular checkups and cleanings to make sure your implant is still in good condition.
Feel a Confidence Boost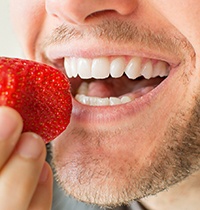 It can be difficult to feel confident in your appearance when you have noticeable spaces in your smile. That's where dental implants come in. They can give you back the smile you deserve, allowing you to grin proudly and live your life with confidence.
Smile for Years to Come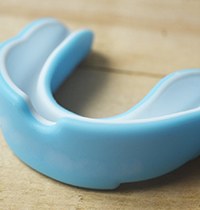 While dental implants may seem initially expensive, keep in mind that they are meant to last for several decades. In the long run, they're cheaper than paying for a replacement bridge or denture every few years. If you take proper care of your implants, they should be able to last the rest of your life!
Who Dental Implants Can Help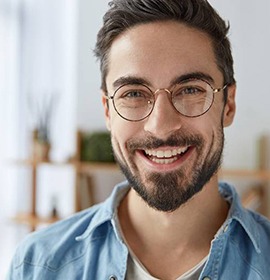 No matter how many teeth you might be missing, our team can put together an implant treatment plan that will close any gaps in your smile. After giving you a quick exam, we'll recommend one of the following restorative options to you!
Missing 1 Tooth
A single dental implant root can be positioned between two healthy teeth without disturbing them (unlike a traditional bridge). Once in place, we can attach a porcelain crown to seamlessly close the gap.
Missing Multiple Teeth
Implant crowns can be placed throughout the mouth as needed, but for a row of missing teeth, we can use just two implant roots to support a bridge that holds up to four teeth at once. Implant bridges are not only more stable than regular ones, but they also don't have that telltale black line near the gums, giving them a more natural appearance.
Missing All Teeth
Even if you are missing an entire row of teeth, implants are still a viable option. A full denture can be anchored to the jawbone using just four to six implants, giving it the hold and security a traditional removable denture can never replicate.
Understanding the Cost of Dental Implants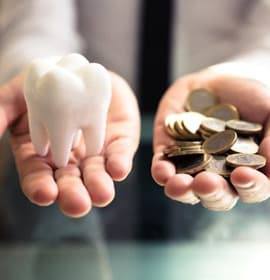 Because dental implants are so versatile, there actually isn't a set cost for the treatment. Every implant procedure is slightly different based on a patient's particular needs and situation. The number of implants needed, the kind of restoration used, and any necessary preparatory procedures can all influence the amount you'll spend on implants. Before beginning treatment, we'll be sure to go over all relevant pricing information so you can know everything you need to decide whether or not to proceed.
While dental implants are more expensive upfront compared to traditional replacement options, they actually end up saving most patients money over time. Why? Largely because of their longevity. While a patient with a regular bridge or denture will need to replace it every 5-7 years, a person with implants can look forward to them lasting for multiple decades, perhaps for the rest of their life. Because of this low maintenance, implant patients typically save thousands by comparison.
Types of Dental Implants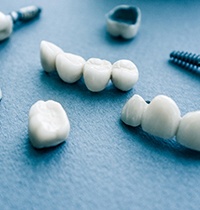 There are many factors that can influence the cost of dental implant placement, such as the number of implants you're receiving. A single implant topped with a crown will cost significantly less than multiple implants supporting a dental bridge or denture, for example. There are also different types of dental implants from different manufacturers, which may come at different costs. During your initial consultation with your implant dentist in Brampton, we'll discuss the details of the procedure with you as well as your options for the type and number of implants you should receive.
The Parts of Your Dental Implant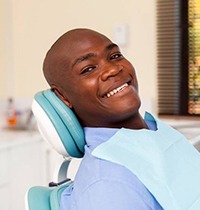 Every stage of the dental implant placement process incurs a unique cost. Don't worry, however. You won't have to pay for the entirety of your new grin at once. Because treatment takes place over the course of several months, you can pay for your treatment one procedure at a time. Some of what you can expect to pay for might include:
Preliminary procedures like tooth extractions, bone grafts, or gum disease treatment
The implant placement surgery itself
Placement of the abutment, or the metal connector that attaches the implant to the restoration
Placement of the final restoration (a crown, bridge, or denture)
Are Dental Implants Worth the Investment?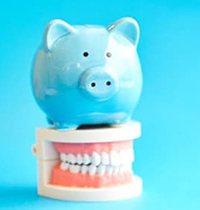 While dental implants typically cost more up front than other methods of tooth replacement, you will actually end up saving money in the long run. This is because implants have the potential to last for several decades, if not for the rest of your life, with minimal maintenance involved. They don't need to be replaced every few years like bridgework or dentures. Moreover, they look and feel like a completely natural part of your smile, and it's nearly impossible to put a price on that benefit. Implants also prevent bone loss in your jawbone, which keeps you looking young and vibrant. Most patients who have received dental implants have said that they were more than worth the investment.
Does My Dental Insurance Cover Dental Implants?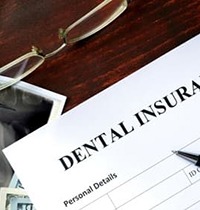 The good news is that more and more insurance companies are starting to offer coverage for dental implants. However, you'll have to check your individual policy to find out just how much coverage you're eligible to receive. If it does not cover the cost of the implant itself, it may help with preliminary procedures, like gum disease treatment, for example. We at Salvaggio Dentistry accept most major insurance policies, and we will work with you to help maximize your benefits and even file your claims for you so you can get those benefits as soon as possible.
Dental Implant FAQs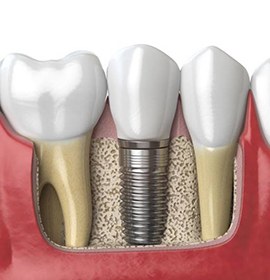 At Salvaggio Dentistry, we believe in the importance of patient education and ensuring everyone who received dental implants in Brampton feels confident in their treatment decision. This is why our office team has compiled some of the most frequently asked questions about dental implants. Should you have any additional questions, we encourage you to contact us!
Does the Process of Getting Dental Implants Hurt?
Just like any other surgical procedure, we will administer local anesthesia or sedation prior to implant placement. This will keep you from feeling any pain throughout the procedure. You can expect to feel some discomfort during the healing phase, but as long as you take any prescribed medications or over-the-counter pain reliever as instructed, you will be feeling just fine in a matter of days.
If I Have a Traditional Denture, Can I Change to Dental Implants?
If you are unhappy with your traditional denture and want to make a change, dental implants are a great solution. Not only will you have greater stability, but they'll prevent bone deterioration and improve your oral health. Our team of dentists will place the necessary number of implants to support your lower or upper denture (or both).
Can Dental Implants Fail?
Unfortunately, in certain situations, a dental implant can fail; however, it is highly unlikely. Dental implant placement has an extremely high success rate (95-98%), but there are a few instances that can cause an implant to fail, including:
Tobacco use or smoking
Incorrect positioning and placement
Infection in the oral bone and/or soft tissue
How Do I Care for My Dental Implant?
With dental implants, you don't need any special tools or equipment to keep them clean. Just maintain a good oral hygiene routine, and you'll be good to go! Make sure to brush your teeth twice a day for two minutes, floss at least once a day (correctly), rinse with an antiseptic mouthwash, and keep your regularly scheduled visits with your dentist in Brampton.
Dental Implants Post-Op Instructions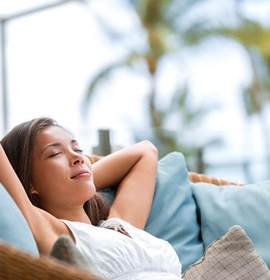 Once your dental implants are placed, you can rest knowing that the difficult part of your implant treatment is complete. What comes next is your aftercare, a crucial yet relatively straightforward process that is largely affected by your habits after surgery. By keeping the following tips in mind, you can ensure your recovery is smooth and free of any complications. If you do notice any side effects that appear abnormal, please give us a call and we'll help however we can.
What to Do Directly After Dental Implant Surgery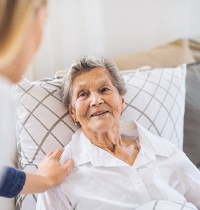 Taking care of the newly formed blood clot over your treatment site should be a top priority immediately following your surgery. If the clot becomes loose and falls off, it can lead to dry socket, a very uncomfortable condition that's easily preventable with the steps below:
Do not use a straw or spit forcefully
Avoid smoking or using tobacco for the next several days (especially the first day)
Do not touch the treatment site with your tongue or fingers
Do not try to remove any stitches placed by our office
Common Side Effects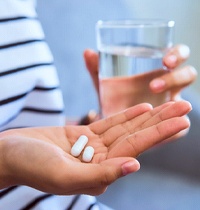 Mild side effects are not only common, but expected following any oral surgery, not just dental implant placement. You can expect the following over the next few days:
Intermittent bleeding – This can be managed with gauze and light pressure.
Facial swelling – To bring down swelling and alleviate discomfort, apply a cold compress for 10 minutes. Remove for an additional 10 minutes and reapply for up to one hour.
Discomfort – Painkillers, either over-the-counter or prescriptions, can be taken over the next few days.
Your symptoms should improve within a week. If they do not, call us for additional guidance.
Diet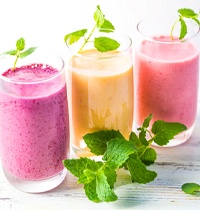 You'll need to stick to a liquid and soft diet over the next week after implant surgery to prevent undue stress on your treatment site. Consider this brief list of foods to have in your fridge or pantry ahead of your procedure:
Applesauce
Fruit smoothies
Yogurt
Eggs
Pasta
Soups and stews (consume at room temperature)
Mashed potatoes
Ice cream
Pudding
Health & Oral Hygiene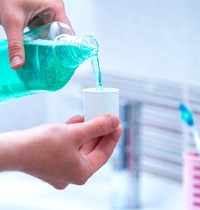 You should still brush and floss the day after your surgery, just make sure to use caution when cleaning around the treatment site. Be as gentle as possible and rinse your mouth out two to three times a day either with salt water or a prescribed mouthwash. We do not recommend using any mouthwashes that contain alcohol as this can easily cause dry mouth.
What to Do After Your New Teeth Are Attached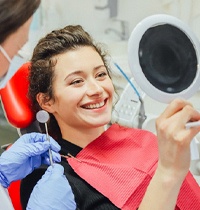 After about four to six months have passed and the implant has fully fused with your jawbone, you'll come back to our office to receive your permanent restoration. This could be a crown, bridge, or denture depending on your treatment plan. Regardless of what you receive, you can expect it to be lifelike and feel natural. It's normal to experience some sensitivity in your implant site after the restoration is placed, but not bleeding or swelling.