Dental Implants – Brampton, ON
The Most Complete Tooth Replacement
For patients who are serious about addressing their tooth loss, they should really only consider one treatment: dental implants. In short, they are the most advanced replacement available today, able to deliver the strongest, best looking, and most durable results by far. With them, it won't just feel like you've replaced your teeth, it will feel like you've gotten your real teeth back. To learn more about implants and how we can use them to rebuild your smile, contact Salvaggio Dentistry today.
Why Choose Salvaggio Dentistry for Dental Implants?
Entire procedure performed under one roof
Able to look great & function for a lifetime
FREE consultation
Benefits of Dental Implants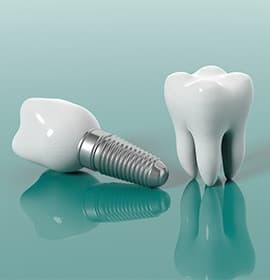 Instead of just replacing the part of the tooth you can see, dental implants actually bring back the root structure as well. A small titanium post is placed directly into the jawbone, and this is used to support a variety of dental restorations. This gives them exceptional stability, meaning a patient can eat whatever they like without having to worry about their new teeth shifting.
Designed to support 100% porcelain restorations, implants are able to bring back a patient's health and original appearance at the same time. The only people who will know which teeth aren't real will be you and your dentist!
The jawbone naturally starts to shrink after a tooth has been lost, and other replacements can do nothing about this. Dental implants, however, are able to revitalize the jawbone, preserving the foundation for the remaining teeth while also helping someone maintain their natural face shape.
With just consistent brushing, flossing, and routine dental visits, a dental implant can often last for 30 years or more.
Indications for Dental Implants
No matter how many teeth you might be missing, our team can put together an implant treatment plan that will close any gaps in your smile. After giving you a quick exam, we'll recommend one of the following restorative options to you:
Missing One Tooth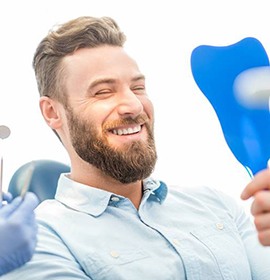 A single dental implant root can be positioned between two healthy teeth without disturbing them (unlike a traditional bridge). Once in place, we can attach a porcelain crown to seamlessly close the gap.
Missing Multiple Teeth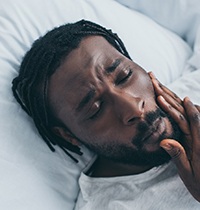 Implant crowns can be placed throughout the mouth as needed, but for a row of missing teeth, we can use just two implant roots to support a bridge that holds up to four teeth at once. Implant bridges are not only more stable than regular ones, but they also don't have that telltale black line near the gums, giving them a more natural appearance.
Missing All of Your Teeth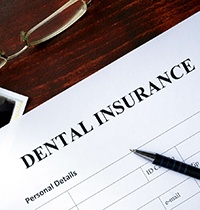 Even if you are missing an entire row of teeth, implants are still a viable option. A full denture can be anchored to the jawbone using just four to six implants, giving it the hold and security a traditional removable denture can never replicate.
Learn More About All-on-4 Dental Implants
Start to Finish Convenience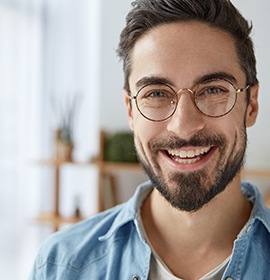 Our team has received advanced training in order to perform the entire implant procedure right here at Salvaggio Dentistry. This saves our patients time, money, and stress because they are able to get everything they need in one place while working with the same team the entire time.
Understanding the Cost of Dental Implants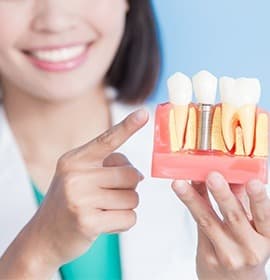 Because dental implants are so versatile, there actually isn't a set cost for the treatment. Every implant procedure is slightly different based on a patient's particular needs and situation. The number of implants needed, the kind of restoration used, and any necessary preparatory procedures can all influence the amount you'll spend on implants. Before beginning treatment, we'll be sure to go over all relevant pricing information so you can know everything you need to decide whether or not to proceed.
While dental implants are more expensive upfront compared to traditional replacement options, they actually end up saving most patients money over time. Why? Largely because of their longevity. While a patient with a regular bridge or denture will need to replace it every 5-7 years, a person with implants can look forward to them lasting for multiple decades, perhaps for the rest of their life. Because of this low maintenance, implant patients typically save thousands by comparison.
Learn More About the Cost of Dental Implants
Dental Implant FAQs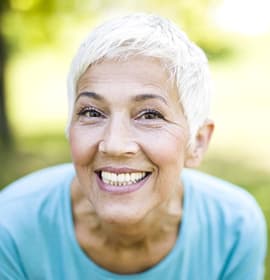 At Salvaggio Dentistry, we believe in the importance of patient education and ensuring everyone who received dental implants in Brampton feels confident in their treatment decision. This is why our office team has compiled some of the most frequently asked questions about dental implants. Should you have any additional questions, we encourage you to contact us!
Does the process of getting dental implants hurt?
Just like any other surgical procedure, we will administer local anesthesia or sedation prior to implant placement. This will keep you from feeling any pain throughout the procedure. You can expect to feel some discomfort during the healing phase, but as long as you take any prescribed medications or over-the-counter pain reliever as instructed, you will be feeling just fine in a matter of days.
If I have a regular denture, can I change to dental implants?
If you are unhappy with your traditional denture and want to make a change, dental implants are a great solution. Not only will you have greater stability, but they'll prevent bone deterioration and improve your oral health. Our team of dentists will place the necessary number of implants to support your lower or upper denture (or both).
Can dental implants fail?
Unfortunately, in certain situations, a dental implant can fail; however, it is highly unlikely. Dental implant placement has an extremely high success rate (95-98%), but there are a few instances that can cause an implant to fail, including:
Tobacco use or smoking
Incorrect positioning and placement
Infection in the oral bone and/or soft tissue
How do I care for my dental implant?
Good news! With dental implants, you don't need any special tools or equipment to keep them clean. Just maintain a good oral hygiene routine, and you'll be good to go! Make sure to brush your teeth twice a day for two minutes, floss at least once a day (correctly), rinse with an antiseptic mouthwash, and keep your regularly scheduled visits with your dentist in Brampton.