Cosmetic Dentistry – Brampton, ON
Enjoy Complete Confidence with Every Smile
Do you feel like you need to hide your teeth from the world because of noticeable flaws? Are you afraid your smile isn't able to give a good first impression? If so, you're far from alone, and cosmetic dentistry can help. Working with our team and using the treatments below, we can make annoying imperfections seemingly disappear behind a pristine white smile, often in just one or two appointments. If it sounds too good to be true, it isn't, and you can learn more by giving us a call today!
Why Choose Salvaggio Dentistry for Cosmetic Dentistry?
FREE consultations: Learn everything you need before getting treatment
Porcelain veneers: Fix multiple flaws with a single procedure
Invisalign: Straighter teeth without metal braces
Porcelain Veneers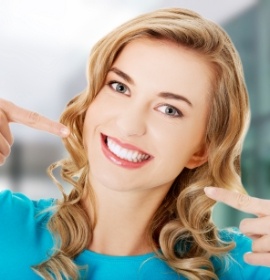 For patients who want to improve the overall shape, size, and color of their teeth, porcelain veneers are by far the easiest way to do it. This treatment consists of placing thin ceramic coverings over the front of the teeth, and they're able to instantly fix stains, chips, cracks, and gaps all at the same time. They are always custom-made, so whether you just want a minor touch-up or a smile that looks just like your favorite celebrity, we can design the treatment that is perfect for you.
Metal-Free Dental Restorations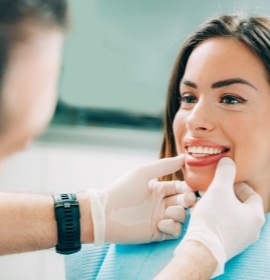 If you have a damaged tooth that shows prominently in your smile, the last thing you need is a dental restoration that looks completely unnatural. That's why we offer metal-free, all-porcelain restorations. This material is not only strong like real enamel, but it replicates its appearance down to the finest detail, including how it reflects light. In just two appointments, we can give you the kind of dental work that only you and your dentist will know is there.
Dental Bonding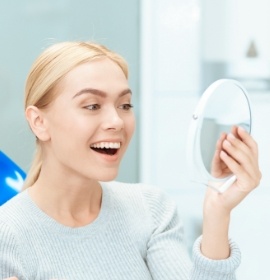 Want to improve the look of your smile, but don't have a lot of time to do it? With direct bonding, your dentist can literally sculpt a problem tooth to perfection in about an hour. A color-matched composite resin is applied to any damaged/missing enamel, and then it's shaped to look like a normal part of the tooth, hiding a small stain, thin gap, or minor chip in the process. The procedure is not only fast, but completely painless, and the results can last for up to a decade as well.
In-Practice Teeth Whitening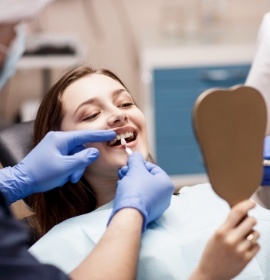 Everyone wants to have a glowing white smile that instantly lights up the room, but things like coffee, wine, tea, tobacco, and even aging can cause the teeth to lose their luster as the years go by. Zoom! Teeth Whitening can bring it back, however, and often in just an hour or less. Combining a powerful bleaching gel with a low-UV light, Zoom! is able to remove years of stubborn stains in just one quick appointment, helping your smile look at least 6-8 shades whiter.
Gum Recontouring/ Crown Lengthening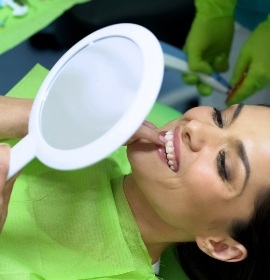 Whenever you smile, does too much of your gum line show? This is a very common issue, and it's one we can easily address here at Salvaggio Dentistry. A quick treatment with a soft tissue laser is all we need to painlessly remove any excess tissue to help the teeth look longer and better proportioned. After this, we can either reshape the gum line along the teeth or improve the smile even further by applying porcelain veneers.
Invisalign® Clear Braces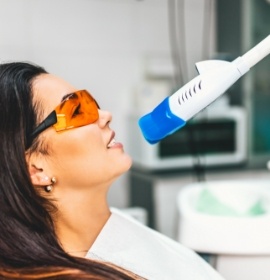 For all the adults who think they are simply too old to have their teeth straightened, Invisalign was designed just for you. Instead of bulky metal brackets and wires, all a patient has to do is wear a progressive series of clear aligner trays to achieve the beautiful smile they have always wanted. The trays are so subtle-looking that friends and coworkers will never notice them, plus you can always take them off whenever you need to eat or brush your teeth.