Veneers – Brampton, ON
A Dazzling Smile You Deserve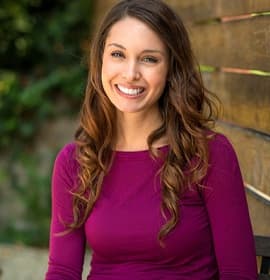 Your cosmetic dentist has all kinds of treatments they can use to make your teeth more attractive – whitening for discoloration, bonding for minor chips and cracks, and so on – but what if there's more than one change you want to make? At Salvaggio Dentistry, we can hide all kinds of flaws with dental veneers in Brampton, resulting in a smile that you can be proud to show off. To schedule a consultation and learn more about achieving a dazzling smile you deserve, contact our office today.
Why Choose Salvaggio Dentistry for Veneers?
Customized for Natural Appearance
Lasts 15+ Years with Proper Maintenance
Saturday Appointments Available
What are Dental Veneers?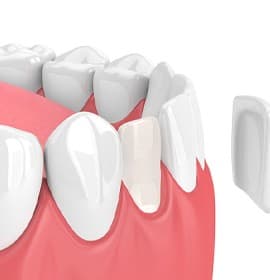 Veneers are sometimes called dental laminates. They are thin shells over porcelain that are placed over the front-facing surfaces of the teeth to cover aesthetic flaws. The durable, natural-looking porcelain used can effectively conceal a single damaged tooth or a mouthful of cosmetic imperfections. Most of the time, they are used to address teeth that are chipped, gapped, misaligned, misshapen, stained, or undersized.
The Process of Getting Veneers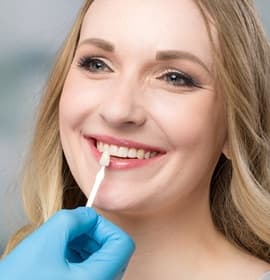 You'll need to schedule a consultation with us so that we can discuss your smile goals and figure out the best way to achieve them. If we decide that veneers are the answer, we'll begin the procedure. First, we'll need to remove small amounts of enamel from the appropriate teeth so that there's room to attach the veneers. We'll then create a model of your mouth and send it to a dental lab. They'll use it to create your veneers, which can take a few weeks.
Once we've gotten the restorations, we'll call you back to the office. After making any necessary last-minute adjustments, we'll clean and polish your tooth; this roughens the surface and makes the bonding process easier. The veneers are attached with dental cement, which is then cured with a special light. After some final touches, you'll be ready to head out and show off your new grin.
Benefits of Veneers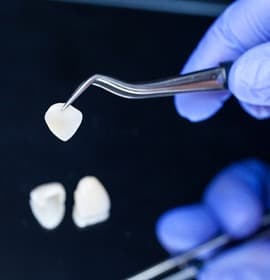 There are plenty of reasons why we're happy to recommend veneers to our patients:
A Versatile Treatment: Veneers are used to fix chipped or broken teeth, discoloration, worn down teeth, gaps, misalignment, and irregularly shaped teeth.
Stain Resistant: Porcelain doesn't stain as easily as natural teeth or other materials such as composite resin.
Comfortable: While metal restorations sometimes irritate the gums, most patients tolerate porcelain very well.
Dazzling and Natural Looking: When people see your smile, most of them won't even notice that you've had dental work done.
No Special Care Required: There's no need to do anything out of the ordinary to take care of your veneers; just brush and floss like you already do and don't forget to come in for your regular checkups.
Durable: On average, veneers last about 7 to 15 years before they need to be replaced.
Ready to Take the First Step?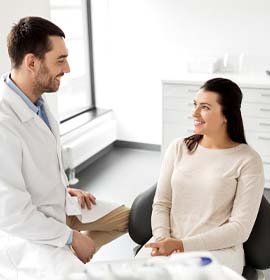 If getting dental veneers sounds like the treatment you deserve, contact Salvaggio Dentistry today. We have a team of well-trained dentists with plenty of experience in cosmetic dentistry; feel free to ask questions so that we can help you choose a procedure that'll help your smile be the best it can be.