Dental Bridges – Brampton, ON
Closing the Gaps in Your Grin
The type of tooth replacement that our team at Salvaggio Dentistry suggests for your smile will vary from case to case. We might recommend a dental bridge if you only have one missing tooth or if all the teeth that were lost were right next to each other. Not only will your new bridge look natural, but it will help you avoid dental drift and other consequences of an incomplete smile! Call today if you think a dental bridge might be the best solution for your tooth loss.
Why Choose Salvaggio Dentistry for Dental Bridges?
In-Office Dental Implant Placement Available
Natural-Looking, Durable Dental Bridges
Multiple Dentists and Convenient Appointment Times
What is a Dental Bridge?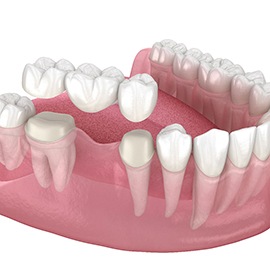 Two main things are needed to create a dental bridge: pontics and crowns.
Pontics: A pontic is an artificial tooth that fills in space in your smile. A specific number of pontics will be used to make your bridge based on how many teeth are missing. For instance, if you have only lost one tooth, then you can get a traditional dental bridge with a single pontic.
Crowns: Crowns are caps shaped like your natural teeth. Each bridge includes two crowns – one on each end with the pontic(s) suspended between them. The purpose of the crowns is to keep your bridge anchored to either your natural teeth or two dental implant posts.
Types of Dental Bridges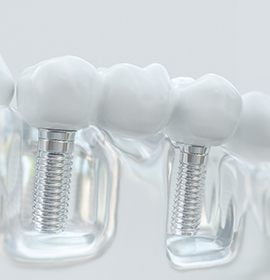 Before we can rebuild your smile, we need to determine the kind of dental bridge that will be used. At your initial consultation, we'll take a look at your mouth and explain what your dental needs are. This way, you can make an informed decision regarding the bridge you should get.
Traditional Dental Bridge
Traditional bridges are supported by two of your remaining teeth. Compared to implant bridges, traditional bridges take much less time to place, and they don't require any surgery. A traditional bridge may be viable if one to three teeth are missing.
Implant Bridge
Implant bridges are anchored to dental implant posts. The process of placing and restoring dental implants takes months, but the result is a row of stronger, more stable replacement teeth. Potential candidates for implant bridges are generally missing three or more consecutive teeth.
The Benefits of Getting a Dental Bridge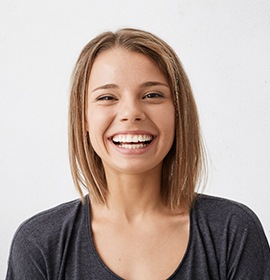 It's recommended that you have missing teeth replaced as soon as possible, and in many cases, a dental bridge will be the right fit for the job. Once your dental implant is in place, you will be able to enjoy:
The peace of mind of knowing your other teeth will remain in their proper alignment.
A more varied diet due to your bridge enabling you to chew normally again.
A beautiful smile thanks to your natural-looking replacement teeth.
A dental prosthesis that can last for 15 years or longer as long as it's properly cared for.
Dental Bridges FAQs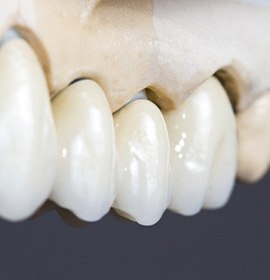 We believe that patients should know as much as possible about any procedure before they begin, so we'll take the time to carefully walk you through the details of dental bridges when we meet you. That said, you may be restless to learn as much as you can before the consultation.
In the interest of educating our patients about what we do, here are answers to some of the most common questions people have about dental bridges.
Is Getting a Dental Bridge Painful?
Dental bridges usually require removing a small portion of your enamel in order to put them in place. However, we'll be sure to numb your mouth completely before doing this for you, so you can rest assured that you won't have to deal with any level of discomfort during the treatment.
It's common for patients to experience a little bit of sensitivity in the days after receiving the dental bridge. It'll take a little while for your teeth to get used to relying on the dental bridge for protection. After that, you shouldn't have any problem with discomfort in the long term.
Is a Partial Denture the Same as a Bridge?
While partial dentures are sometimes called removable bridges, this name isn't quite accurate. Dentures are rarely made of the same materials as dental bridges are—the former is usually acrylic, while the latter is often made of zirconia. Dentures can also replace several teeth along one arch regardless of their position, but dental bridges can only replace consecutive teeth.
Finally, dental bridges require us to remove a small portion of your enamel, while dentures do not. However, the tradeoff is that this gives dental bridges a considerably stronger and more secure bite than dentures. We'll talk with you about which option we think is best for your needs at your consultation.
How Many Teeth Can a Dental Bridge Replace?
Generally, the longer your dental bridge is, the less stability it has. This is sort of intuitive if you think about it like an actual bridge. The more teeth a bridge replaces, the more pressure it puts on the natural teeth, and the more bite force that the center of the restoration has to endure.
Dental bridges can be used to replace as many as four teeth if your surrounding teeth are healthy. However, it's much more typical to replace just one or two teeth. Dental bridges are also restricted by the fact that the missing teeth need to be right next to each other, so it's rare for someone to be in a position to be able to replace more teeth than that. If you're missing most or all of your teeth, dentures may be a better option for you.
How Do I Clean Under My Dental Bridge?
You'll usually be able to clean the outside of your dental bridges pretty well with simple brushing, but you'll also have to clean in the small gap between your restoration and your gums in order to prevent bacterial buildup.
There are a few ways to go about this, and you can experiment with each of them until you find one that works:
Use a floss threader, which is like a soft plastic sewing needle that can run through small crevices much more easily than floss on its own.
Use an interdental brush, which is like a small plastic toothpick with a brush on the end of it designed to scrub in between the teeth.
Use a WaterPik or other oral irrigator, which uses pressurized water to blast away plaque.