Replace Missing Teeth – Brampton, ON
Rebuild Your Beautiful Smile
Are you missing a single tooth? How about multiple teeth, or maybe even most of them? No matter the amount, missing teeth can wreak serious havoc on not only your oral health but your self-confidence as well. Life just isn't as enjoyable when you can't eat whatever you like and have to think twice before you smile. Fortunately, Salvaggio Dentistry is ready to offer you a solution. We can close any gaps using high-quality restorations designed just for you, and before you know it, you'll have a complete smile to greet you every day in the mirror. Want to learn more? Give us a call today.
Why Choose Salvaggio Dentistry to Replace Missing Teeth?
All-inclusive dental implant care available
3 highly-skilled dentists on staff
Every restoration custom-made for every smile
What Happens if I Do Nothing?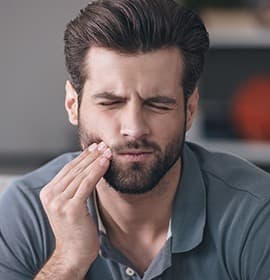 After a tooth goes missing, the jawbone in the area naturally starts to shrink and atrophy, which can actually erode the foundation of the surrounding teeth. This can eventually cause the teeth to drift into the open space, making the bite misalign and develop dysfunction. The exposed gum tissue is also more likely to get an infection, which in itself is one of the leading causes of tooth loss. If you want to prevent tooth loss from getting worse, replacing any missing teeth is always the first step.
Dental Bridges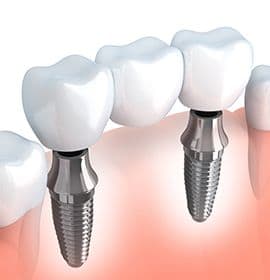 A dental bridge is a type of prosthetic that can replace anywhere from 1 to 4 teeth in a row, and it uses the strength of the remaining teeth for support. Two dental crowns are placed over the teeth near the absent ones, and these are bonded to the new teeth that close the gap. Bridges not only restore balance to the bite, but they are designed to look natural as well, helping a patient regain confidence in their smile.
Learn More About Dental Bridges
Dentures & Partial Dentures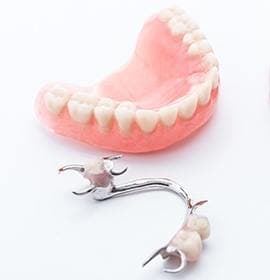 For patients with several missing teeth, our custom-made dentures can literally give their smile a new lease on life. Partials can be designed to close gaps throughout the smile while fitting comfortably among the remaining teeth, while a full denture can bring back an entire dental arch at the same time. Our dentures are fabricated using ceramic teeth attached to an acrylic gum-colored base to create something that not only looks natural but functions just like real teeth as well.
Dental Implants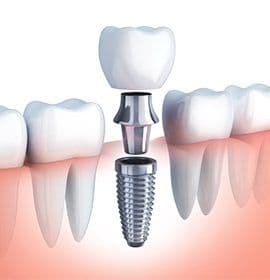 It's no understatement to say that dental implants have revolutionized the way dentists are able to replace missing teeth. Instead of just bringing back the part people can see (called the crown), implants actually restore a tooth below the gum line as well using a small titanium post placed into the jaw. This results in a prosthetic that looks, feels, and functions just like a natural tooth in every way, giving a patient the security they need to eat, speak, and smile with complete confidence.