Children's Emergency Dentist – Brampton, ON
Immediate Help For Your Little One's Smile
As a parent, you know that accidents are bound to happen. Maybe your son or daughter took a blow to the face while playing with friends or maybe they woke up with a horrible toothache. Thankfully, your Brampton children's emergency dentist at Salvaggio Dentistry can provide immediate help for your little one's smile. With same-day appointments and extended hours, our team of three highly trained dentists is here to provide urgent dental care when your family needs it the most.
Why Choose Salvaggio Dentistry For Children's Emergency Dentistry?
Same-Day Emergency Appointments
Experienced and Compassionate Dental Team
Evening and Weekend Availability
How to Handle Common Dental Emergencies
If your son or daughter is experiencing a dental emergency, the first thing you should do is call us. Whether they're dealing with a painful toothache that's been slowly worsening over time or they've suffered a physical injury, we can help. We'll provide specific instructions for your unique situation over the phone, but here are some basic first-aid tips to keep in mind until you can reach our office.
My Child Has a Toothache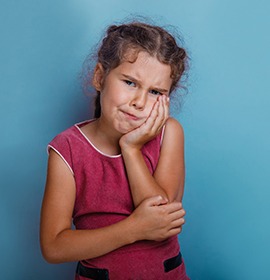 Your child's enamel is much thinner than that on adult teeth, so it's much more vulnerable to decay and the pain that comes with it. Try flossing around the painful tooth to remove any stuck debris that could be causing the issue. If that doesn't do the trick, use ice packs and acetaminophen to manage the swelling and discomfort until they can come in.
My Child Chipped/Broke a Permanent Tooth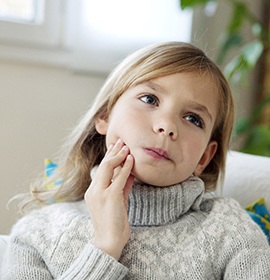 Locate as many pieces of the broken tooth as possible, including any lodged in your child's gums, and bring them with you to the office. To protect the soft tissues in their mouth, you can cover up any sharp edges with dental wax or sugarless gum. If there's any bleeding, remember to avoid using pain relievers that contain aspirin.
My Child Knocked Out a Baby Tooth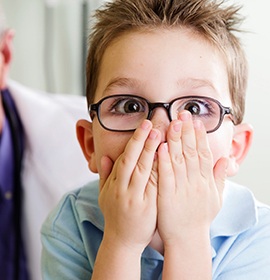 Even though baby teeth are meant to fall out eventually, losing one too early can lead to big problems. The surrounding teeth may shift into the gap and trap the permanent tooth underneath. Bring the tooth with you to the appointment but DO NOT try to replant it yourself.
My Child Knocked Out a Permanent Tooth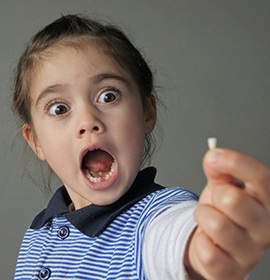 When permanent teeth are knocked out, it's essential that you get to our office within the hour. Only handle the tooth by the crown and avoid touching the roots. You can wash it off gently with plain water or milk, but don't remove any lingering tissues. To keep it moist, you can try to reposition it in the socket or store it in a container of milk or saliva.
How to Help Your Child Avoid Dental Emergencies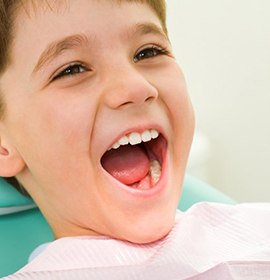 While not all accidents can be avoided, there are certain precautions you can take to help minimize your child's risk of a dental emergency, like:
Have them wear a mouthguard while playing sports.
Discourage chewing on hard objects like pen caps, ice, or their fingernails.
Make sure they're brushing and flossing their teeth every day.
Bring them in for their regular checkups twice a year for preventive care.
The Cost of Treating Your Child's Dental Emergencies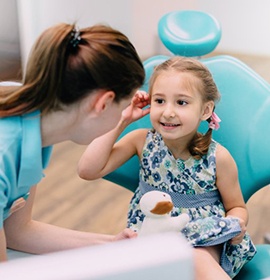 Just as your little one's smile is unique, every child's dental emergency is different. Treating their situation may be as simple as getting a prescription medication or little filling, or they may need a more complex treatment like a root canal. Regardless, you can count on Salvaggio Dentistry to provide the gentle, compassionate, and effective care your little one needs. We'll be happy to go over your insurance benefits with you as well as options for making their care more affordable.