Invisalign® – Brampton, ON
Improving Oral Health and Beautifying Grins Without the Hassle of Metal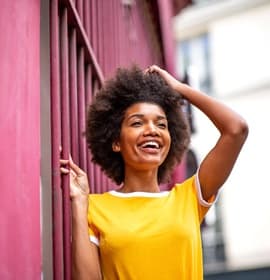 Do you feel like people that you're engaging in conversations with are focusing on your crooked teeth rather than what you have to say? Not only can this cause your self-esteem and confidence to take a massive hit, but it can also dissuade you from putting yourself out there and meeting new people. Up until a couple of decades ago, the only orthodontic treatment that people could get was traditional metal braces. While it's a perfectly fine solution for some, the thought of having a mouthful of metal wires and brackets as an adult doesn't sit well with you. How are you supposed to maintain your professional image? Will people stop to comment on your orthodontic appliance? One thing is for sure, it's that you'd rather not deal with having metal in your mouth. When you visit Salvaggio Dentistry, you won't have to because we offer Invisalign clear braces!
Why Choose Salvaggio Dental For Invisalign?
Custom-Tailored Orthodontic Treatments
Experienced Team of Dentists
Convenient and Flexible Office Hours
The Invisalign Process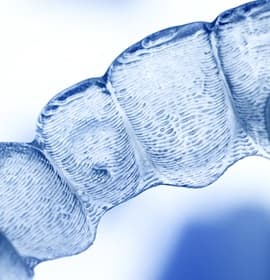 The first step to take to start your Invisalign journey is to schedule a consultation with Dr. Salvaggio or Dr. Al Khoury. We will start by examining your teeth and gums and taking digital impressions and images of your mouth and facial structure. This will allow us to form a customized treatment timeline to straighten your teeth and fix any other orthodontic issues, like bite problems. We'll then collect all of our information and send it off to our Invisalign laboratory so they can custom-craft your aligners.
When your first set of aligners arrives at our office, we'll schedule an appointment to show you how to take care of them. You'll wear each pair for about two weeks at a time for at least 22 hours every day. The only moments that you'll have them out of your mouth are when you're eating, drinking anything besides water, or brushing and flossing your teeth. During your adjustment period, you may forget to put them back in your mouth, which is why it's always a good idea to set a reminder on your phone to build good habits. Every six to eight weeks, we'll call you in for checkups, or progress reports. These are short 15 to 30-minute visits where we'll make sure you're on the right track and give you your new set of aligners.
Benefits of Choosing Invisalign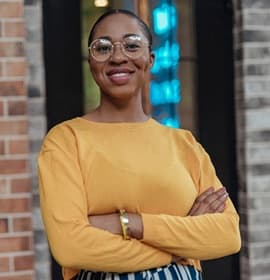 Patients typically choose Invisalign treatment instead of metal braces because aligners offer unique benefits, such as:
Discreet: The primary reason why adults and teens choose Invisalign is because they're made from a practically unnoticeable clear plastic, allowing you to be more confident while undergoing treatment.
Keep Eating Your Favorite Foods: With metal brackets and wires, you have to stop eating certain foods because it could break your appliance. With Invisalign, all you have to do is to your aligners out before you enjoy all of your favorite foods and drinks.
Easy to Clean: Instead of maneuvering around brackets and wires, to brush and floss your teeth with Invisalign, you just have to take them out beforehand! To sanitize your trays, simply brush them with a soft-bristled toothbrush and clear antibacterial soap daily.
Shorter Average Treatment Times: If you were to get metal braces, you may have to wear them for over two years. With Invisalign, the average treatment time is shorter, allowing you to enjoy your improved smile sooner.
More Comfortable: Invisalign aligners are crafted from a smooth, FDA-approved plastic that doesn't rub against your oral tissues and cause irritation.
Problems That Invisalign Can Fix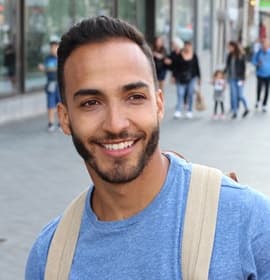 Invisalign is more versatile than many patients realize. If you suffer from any of the following problems, you'll be able to benefit from the clear braces process:
Crooked and misaligned teeth.
Minor bite problems.
Gaps between teeth.
Crowded teeth.
The first step towards getting a smile that's healthier and more beautiful is to schedule a consultation at Salvaggio Dentistry by contacting our office. Our team of dental professionals will be more than happy to answer any questions you may have and help you begin your journey!
Invisalign FAQs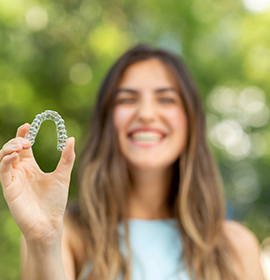 From orthodontic problems that Invisalign can fix to an overview of the treatment process, we've covered a lot of information about Invisalign in Brampton right here. If you'd like to learn more about this treatment – from what to do if one of your aligners breaks to what happens after you've worked through your series of aligners – then read on!
Does Invisalign Hurt?
Let's start with one of the most common questions: does Invisalign hurt? If this has been a concern of yours, then you'll be happy to know that the clear aligners are crafted from smooth plastic, which makes them quite comfortable. Plus, any discomfort you feel from the pressure of your teeth being guided into their properly aligned positions can be combated by taking an over-the-counter pain reliever, avoiding crunchy foods, and sipping on cold water.
What Happens After Invisalign?
Many patients are so focused on their clear aligner treatment that they completely forget about what the next step is: retainers. Fortunately, these orthodontic appliances are more discreet and comfortable than ever before, which makes wearing them significantly easier. By committing to wearing them nightly, you can help reduce your chances of experiencing orthodontic relapse (the phenomenon where your teeth begin to drift back into their previous positions). Since roughly 50% of patients experience orthodontic relapse to some degree within 10 years of completing their treatment, it's important to make wearing your retainer a lifelong best practice!
What if My Invisalign Broke?
If you've broken an aligner, the next step is simple: call our team. Once we take a look at your treatment plan, we can determine if you should go back to your previous tray, move onto your next one, or come in so we can get a replacement made.
Note: do NOT use superglue or other household items to "repair" your aligners. These products contain toxins that are not safe to ingest, and damaged aligners cannot properly guide your teeth into their properly aligned positions.
Is Invisalign Cheaper than Braces?
In short, there's no flat fee for traditional braces or Invisalign; each treatment plan is 100% customized to the patient's dental needs. If you're interested in learning more about the cost of each of these orthodontic treatments, then we encourage you to schedule a consultation. That way, we can provide you with an accurate estimate, taking into account important factors like the severity of your misalignment.
How Do I Clean My Invisalign?
Fortunately, you can clean your Invisalign aligners in a few easy steps. After rinsing your trays with room-temperature water, use a soft-bristled toothbrush to gently clean each surface. Then, rinse it again and you'll be all set!
If your aligners are turning yellow or you simply want to give them a deeper clean, you can use the cleaning crystals that came with your welcome kit. To do so, simply place a packet of them in some warm water and carefully place your aligners in the mixture. Gently shake the cup or glass to dissolve the crystals and allow them to soak for 15 minutes. After that, you can rinse your aligners, and they'll be clean!