Emergency Dentist – Brampton, ON
Severe Dental Pain? Give Us a Call!
No one ever expects their day to be affected by a dental emergency in Brampton, but as dentistry professionals, let us tell you that it happens more often than you might think! Whether because of a painful toothache or broken crown, many people find themselves in need of immediate dental care. Fortunately, the way to get urgent dental care is nice and simple: call Salvaggio Dentistry. We're able to handle any emergency in-house, and we can even schedule same-day appointments for serious cases so patients can get the urgent care they need without the wait.
Why Choose Salvaggio Dentistry for Emergency Dental Care?
Same-Day Emergency Appointments Available
Team of 3 Highly-Trained Dentists in 1 Location
Evening & Weekend Hours Mean We're Always Here When You Need Us
What to Expect in a Dental Emergency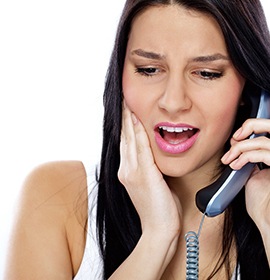 Needless to say, dental emergencies can be extremely stressful, and taking the right actions at the right time can mean the difference between saving or losing a tooth. When you give us a call, here's what you can expect:
Get a same-day appointment and first-aid instructions: With late and weekend availablility, we go above and beyond to see emergency patients the same day they call us. Over the phone, we'll give you specific instructions for handling your situation until you reach our office.
Receive a thorough emergency exam: As soon as you arrive, one of our Brampton emergency dentists will see you for an examination. They'll work quickly to relieve any immediate pain and determine the extent of your emergency.
Review the findings and make a plan: Next, we'll review our findings with you and fully explain all your treatment options, including which ones we recommend for your unique situation. Together, we'll come up with a plan to get your oral health back on track.
Get the care you need: Once you understand and agree to all the details of your treatment plan, we'll get to work right away. We'll focus on relieving discomfort and preserving your smile so you can get back to enjoying a happy, healthy, and pain-free smile!
The Most Common Dental Emergencies
Dental emergencies are relatively uncommon. However, there are instances where you may not even realize that you're having a dental emergency. That's why our dentists here at Salvaggio Dentistry are prepared to see you the same day that your emergency occurs and provide help however they can! Below, you'll find a list of all the most common dental emergencies we treat on a regular basis. We are well-equipped to help you overcome all manner of oral health issues, so don't hesitate to give us a call!
Understanding the Cost of Dental Emergencies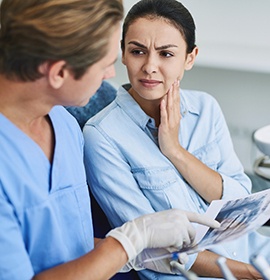 If your tooth is injured or is causing you a great deal of pain, you shouldn't need to think twice about having it treated. However, once you've gotten in touch with Salvaggio Dentistry to schedule your appointment, you might start to consider the financial implications of your dental emergency. How much will it cost to restore your oral health? And more importantly, can you ultimately make this price affordable within the confines of your monthly budget? Dr. Salvaggio, Dr. Baldassarra, and Dr. Al Khoury are all here to guide you through this stressful experience so that you can focus on saving your smile instead of on the costs of repairing it. Read on to learn more about the cost of dental emergencies in Brampton.
Types of Dental Emergencies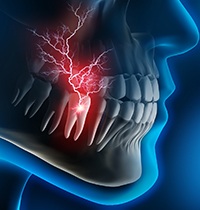 First of all, it's important to realize that not all dental emergencies will carry the same costs. There are various kinds of oral health issues you might suffer from, and the appropriate form of treatment and its cost will vary depending on your unique situation. Here are some examples of emergencies you might experience:
You could have a toothache due to an infection of dental pulp. Oftentimes, your best option is to have root canal therapy performed; in extreme cases, the tooth might have to be extracted altogether.
Your teeth might be cracked or broken. A restoration such as a crown can be used to hide the damage and prevent it from growing worse.
Sometimes an adult tooth might be knocked out. If it can't be replanted, your best option is typically to have it replaced with an implant or another kind of restoration.
An existing crown or filling may be lost, leaving a weakened tooth exposed. A new restoration should be placed as soon as possible.
What Happens If I Don't Take Care of My Dental Emergency?
Ignoring a dental emergency is one of the worst health decisions you can make. These issues will not get better on their own; in fact, their consequences will only become more and more severe. For example, if an infection in your teeth or gums is left alone, it can eventually spread to other parts of your body. It may also lead to additional dental issues, such as the loss of multiple teeth. Speaking of which, lost teeth can cause the rest of your smile to drift out of alignment, and the underlying bone in your jaw will start to degenerate due to the sudden loss of stimulation. Needless to say, these long-term effects will most likely eventually necessitate more complex, costly procedures; hence, as far as costs go, it's generally in your best interest to have an emergency taken care of as soon as possible.
Is My Emergency Care Covered By Dental Insurance?
Because there are so many different insurance plans as well as various dental emergencies, it's difficult to estimate coverage. Treatments for dental emergencies can greatly vary because of all of the different problems that can occur, so it's possible that your plan covers some parts and not others. For example, most insurance plans cover the majority of minor restorations like dental fillings, while they also cover smaller portions of major restorations like tooth replacement. Our friendly and helpful team can file your insurance claims to maximize your plan's benefits and minimize your out-of-pocket costs.
Keys to Preventing Dental Emergencies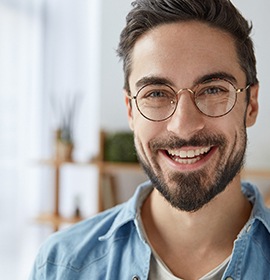 Even though dental emergencies aren't 100% avoidable, there are certain steps you can take to reduce your risk of experiencing one. At Salvaggio Dentistry, our goal first and foremost is to keep your teeth and gums healthy for your entire life. That's why we strive to optimize your oral health by providing routine checkups and cleanings and treating any small issues before they have a chance to progress and cause you pain. However, if you do find yourself in an urgent situation, our emergency dentist in Brampton will always be available to provide you with fast care that restores your smile.
Visit Your Dentist Regularly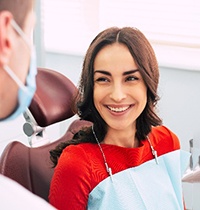 Visiting your dentist every six months doesn't just help catch cavities – it also helps prevent dental emergencies! When chips, cracks, and other dental damage is caught in the early stages, our team can intervene with the appropriate treatment before it turns into a full-blown dental emergency. Plus, a thorough cleaning from one of the talented members of our team will remove stubborn plaque and tartar that would've otherwise left you vulnerable to cavities, gum disease, and other oral health problems down the line.
Don't Forget to Brush and Floss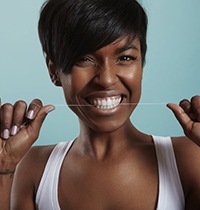 One of the most important preventive measures to take is to maintain good oral hygiene. The American Dental Association recommends brushing twice each day for two minutes, flossing daily, and rinsing with antibacterial mouthwash regularly in order to keep your teeth and gums healthy. Establishing a thorough dental hygiene routine will help you avoid cavities, gum disease, infections, and just about any other common oral health problem you can think of!
Be Careful with Your Diet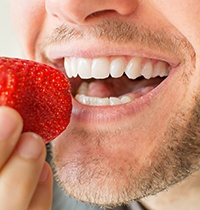 Many people don't associate their daily diet with their oral health. However, what you eat can influence harmful oral bacteria accumulation, which can lead to the development of severe decay, dental sensitivity, and even tooth infections. If you regularly eat processed foods with high amounts of sugars and carbohydrates, you could be turning your mouth into the perfect breeding ground for bacteria. Instead, try substituting healthier alternatives like fresh fruits and vegetables. Not only do these contain high amounts of water to help stimulate saliva flow, but they also contain necessary vitamins and minerals to keep your gums and oral tissues healthy.
Protect Your Teeth from Wear and Tear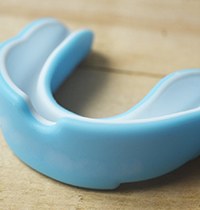 People often participate in bad oral habits that can cause their teeth to wear down or enamel to rapidly deteriorate. These include smoking or chewing tobacco, biting nails, and grinding and clenching your teeth while you're sleeping. In order to protect your pearly whites, it's a good idea to learn how these habits are impacting your mouth and counteract them by quitting them or getting protection, like a customized nightguard to wear to keep your teeth from becoming worn-down by grinding.
Use Tools to Open Packages, Not Your Teeth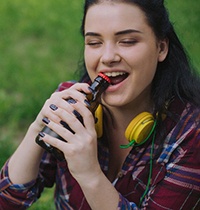 If you've ever used your teeth as tools to open things, it's okay – mistakes happen. The best thing to do moving forward is always to use scissors, a bottle opener, or whatever the correct instrument is. This will help avoid a sudden, painful dental injury that requires a stressful visit to your emergency dentist's office.
Dental Emergency FAQ's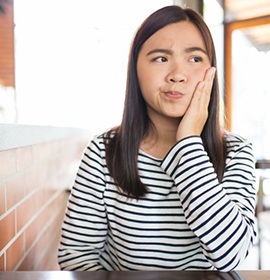 At Salvaggio Dentistry, we want to ensure that our patients have the information that they need if a dental emergency occurs. Because emergencies can never be completely prevented, it's vital to your health that you're prepared. That's why we've put together a list of the answers to some of the most frequently asked questions about dental emergencies. Keep reading to learn more from your emergency dentist in Brampton.
What's Considered a Dental Emergency?
Pain and discomfort can be relatively common, so how do you know when you have a real dental emergency? You may have a dental emergency if you notice signs like:
Intense pain
Bleeding
Loose or broken teeth
Knocked-out teeth
Swelling
Sores or abscesses that won't go away
Loose crowns or fillings
Most dental emergencies come from two different categories: infection caused by poor oral hygiene or sudden trauma to the face or mouth. At Salvaggio Dentistry, we are ready to treat both with expert care!
Should I Go to the ER for a Dental Emergency?
If you're experiencing a dental emergency that is life-threatening, you should go to the hospital. Problems like uncontrollable swelling that affects your breathing, deep cuts, jaw fractures, jaw dislocations, and serious abscess or infection require an immediate visit to the ER. For any other dental emergency that has to do with your dental structure, or infection that isn't affecting your breathing, you can visit our office for expert dental treatment.
Do I Need a Root Canal?
One of the most common treatments for toothaches is a root canal. When the inner, more sensitive portion of your tooth becomes decayed or infected, it can cause serious pain because of the sensitive nerves inside of your tooth. Our dentist in Brampton can perform root canals to remove this infected tissue, which gets you out of pain and protects your tooth in the future.
Can I Postpone Getting Dental Care for My Emergency?
Unlike other medical conditions that get better with time, dental emergencies will only get worse. It's essential that you get treatment right away in a dental emergency, even if you're not experiencing pain. Additionally, for those with damaged or knocked-out teeth, the sooner you come in for treatment, the more likely we are able to save your tooth. Plus, most dental emergencies have serious pain associated with them, which is why it's never a good idea to prolong treatment. Give our office a call and our helpful team will set up your appointment as soon as possible.