Dental Technology & Comforts – Brampton, ON
Professional Tools for Optimal Dental Care
Our dentistry team is constantly updating our dental office with new professional dental technology because, in order to provide the most efficient, comfortable, and precise care possible, you need to have the right instruments! Thanks to the tools listed below, we're able to find, diagnose, and treat dental problems in less time than ever, allowing our patients to get what they need and back to their lives with gorgeous smiles as quickly as possible.
Intraoral Camera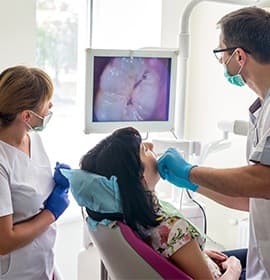 This device allows us to take close-up, highly-detailed pictures of your teeth and gums we can display on a monitor right next to your chair. Now, you'll be able to see your smile in the exact same way as your dentist. They can use these images to discuss the current state of your dental health, point out any problem areas, and recommend potential treatments. This camera will make your appointments much easier to understand and take a lot of the mystery out of your dental care.
Digital X-Rays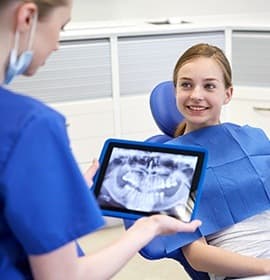 X-rays are an essential diagnostic tool at our practice because they enable our team to see below the surface of the smile, where many problems show their earliest signs. Rather than rely on slow film-based X-rays, we now only use fully digital radiography. The process is much faster, creates sharper images, and it even emits up to 80% LESS radiation as well, which is especially nice to hear for parents with small children.
Trios Digital Impression System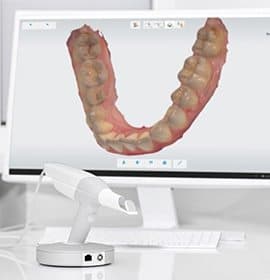 Impressions enable our team to have a working model of a patient's teeth we can use to design a wide variety of treatments. Our Trios system can quickly take a few noncontact scans of the mouth, and within minutes, a fully digital 3D image of the teeth is generated. This process not only takes less time than the traditional way, but it also saves patients from having to get time consuming retakes.
Soft Tissue Laser For Dental Cleanings
Lasers were first introduced to dentistry in the mid-90s, and today, we can use them to perform a wide variety of procedures less invasively than ever before. Our laser's highly-concentrated beam of light is able to quickly eliminate harmful bacteria from along the gum line without actually affecting the gum tissue. This leads to a more comfortable experience versus traditional treatments that typically involved a lot of poking and prodding. The laser is even able to sanitize the treatment area as it goes for efficient appointments. Please note that our lasers are only used with our Soft Tissue Management dental cleaning appointments. Talk to us if you would like to know more about this option.
Nitrous Oxide Dental Sedation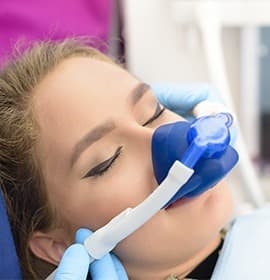 Nitrous Oxide, also known as laughing gas, happy gas, inhalation sedation, and relative analgesia, is a colorless and odorless gas that is used to relax the patient before and during a dental procedure. The patient breathes a combination of laughing gas and oxygen through a face mask over the nose. Once inhaled, the gas reduces feelings of pain and anxiety, bringing on a sense of general euphoria and making the patient feel happy and giggly (hence the nickname).
Learn More About Nitrous Oxide Dental Sedation