Implant Dentures – Brampton, ON
Rebuild a Strong and Beautiful Smile
Millions of people have suffered the loss of all of their teeth. If you are among them, you might be thinking about getting traditional dentures. However, while traditional dentures are better than ever, they still have their downsides. Implant dentures present a superior way for Brampton patients to rebuild a strong and beautiful smile. Get in touch with us to learn how the Salvaggio Dentistry team can reverse tooth loss with this state-of-the-art procedure.
Why Choose Salvaggio Dentistry For Dental Implants?
Entire Procedure Performed Under One Roof
FREE Dental Implant Consultation
Seamlessly Replace Any Number of Missing Teeth
What Are Implant Dentures?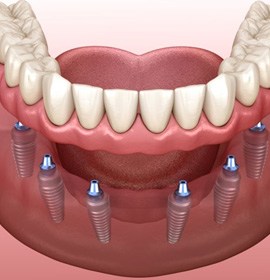 Dental implants are small titanium cylinders, or posts, that act as prosthetic tooth roots. After they are surgically placed into the jawbone, they bond with the surrounding tissue and can provide an incredibly strong base of support for crowns, bridges, and dentures.
When you visit us for your dental implant consultation, we will evaluate your situation and recommend the type of tooth replacement that best fits your circumstances. We might urge you to move forward with a fixed implant denture or a removable implant denture.
Fixed/Permanent Implant Dentures
As their name suggests, fixed implant dentures are permanently attached to the implants that support them; they can only be removed by a dental professional. Many patients choose this option because they like the idea of always having their teeth in their mouth. However, fixed implant dentures do require a strong and dense jawbone.
Removable Implant Dentures
Removable implant dentures are held in place via small ball- or bar-shaped attachments. They should be removed every day for oral hygiene purposes. They tend to require fewer implants than their permanent counterparts, so they are often suitable for patients who have lost some bone density in their jaw.
The Implant Denture Procedure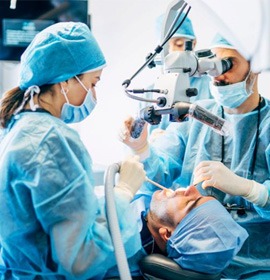 Our talented team performs the entire dental implant procedure right here in our Brampton office. It usually goes something like this:
During your initial consultation, we make sure you are a candidate for implant dentures and start to plan the details of your treatment.
We surgically place the implants at precise, pre-planned positions.
Over a period of a few months, the implants bond with your body in a process known as Then, we may perform a second surgery to place small attachment pieces, called abutments, to your implants.
We restore your dental implants by giving you a beautiful new denture.
Am I a Candidate for Implant Dentures?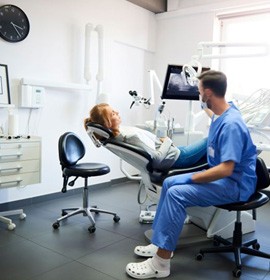 You may be a suitable candidate for implant dentures if:
You are missing all or most of your teeth.
You are free of active gum disease.
You are in fair overall health.
You have good habits that will support the long-term success of your implants.
Your jawbone is strong enough to support dental implants.
If you are not a candidate for dental implants right away, you may become one after some preparatory treatments, such as a bone graft.
Benefits of Combining Dentures & Dental Implants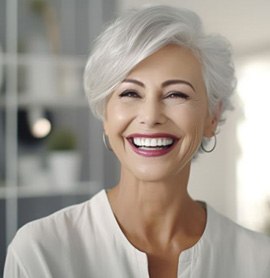 Some of the most remarkable benefits of implant dentures include:
They can provide incredibly strong chewing power, enabling you to eat almost any food, including those that are off-limits with traditional dentures.
Dental implants preserve the jawbone and prevent the deterioration that normally occurs with traditional dentures.
They are an excellent monetary value that can provide many years of benefits. In fact, your implants might last throughout your lifetime!
You can expect your smile to look and feel very natural.
You will never have to worry about your teeth slipping out of place during eating and speaking.