Wisdom Tooth Extractions – Brampton, ON
Professional Wisdom Tooth Removal
Does the back of your jaw hurt? Has this pain only developed within the past couple of weeks or months? If so, then it could be a sign that your wisdom teeth are starting to come in. Most people simply don't have enough room in their jaw for these teeth, leading them to cause all sorts of pain and problems as they push against the molars and struggle to erupt. For patients in need, we can remove these teeth right here at Salvaggio Dentistry, and we'll make the process as easy as possible.
Why Choose Salvaggio Dentistry for Wisdom Tooth Extractions?
Simple & surgical extractions performed on-site
Professional & experienced staff
Extended Hours: Professional care on your schedule
Your Quick Guide to Wisdom Teeth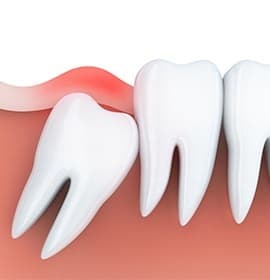 The wisdom teeth are actually a third set of molars, and they typically try to come in around the late teens or early twenties. These teeth were very useful for our cavemen ancestors with their rough and hard to chew diet, but as cooking techniques improved and food became easier to eat, the human jaw actually shrunk over time. The end result was a set of teeth that simply don't fit anymore, which is why they are so often removed.
We'll keep an eye on your wisdom teeth during your regular checkups so we can hopefully remove them before they cause any problems. When they finally need to come out, we'll simply numb the area, remove any gum or bone tissue that is still encapsulating the tooth, and then extract them.
Recovery from a wisdom tooth extraction usually takes about a week, during which a patient should stick to a soft food diet and avoid things like chewy/sticky items and tobacco.