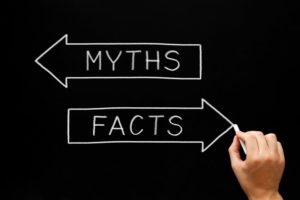 Whether you're struggling with symptoms of gum disease yourself, or you're not sure how you can prevent it, this common oral health problem is estimated to impact millions of Americans. With mountains of research conducted by professionals linking this issue to others, like heart disease and Alzheimer's, you'd imagine that everybody would be familiar with the facts of gum disease. However, many are only familiar with the myths they've heard! Find out whether you've heard of any of the four common myths about gum disease below and why they aren't true.
Myth #1: Gum Disease is Rare
The Centers for Disease Control and Prevention conducted research that shows that about half of American adults over 30 experience signs of gum disease, whether that's in its early or late stages. The truth is that this oral health problem is incredibly common, but many people still aren't sure how to prevent it from developing.
The good news is, routine visits with your dentist every six months can be the key to keeping your gums and teeth healthy. They'll be able to search for the signs, hopefully intercepting them before the disease has an opportunity to progress.
Myth #2: If You Have Diabetes, You'll Definitely Get Gum Disease
Some people believe that just because they're immunocompromised, they'll most definitely be impacted by oral health problems like gum disease and cavities. While this certainly increases your risk of developing these issues, it's not your fate. Working closely with your dentist and developing a thorough routine that minimizes bacteria accumulation in your mouth can help keep your mouth and body healthy.
Myth #3: It's Normal for Gums to Bleed When You Brush & Floss
While seeing blood in your spit whenever you brush or floss your teeth isn't cause for alarm, it is one of the most common signs of early gum disease, known as gingivitis. In many cases, good at-home oral hygiene, including flossing once a day, and a professional cleaning can help reverse the condition and restore your smile's health. However, it's important to mind these warning signs and address the problem before it can get worse!
Myth #4: Receded Gums Can Grow Back
Late-stage gum disease, called periodontitis, can often result in gum recession, which is when the gums become smaller, making the teeth look larger. This is due to pockets of bacteria formation that can compromise the roots of your teeth, eventually leading to tooth loss if not treated. Unfortunately, even with the condition under control, your gums cannot grow back alone. With the help of your dentist and treatments like gum disease therapy, you can restore your gum health, though.
About the Practice
Our staff at Salvaggio Dentistry features four highly skilled and attentive general dentists, along with one endodontic specialist. Each of our dentists is passionate about helping their patients enjoy smiles that look and feel healthy, offering a wide range of specialty treatments like gum disease therapy. For questions or to schedule an examination, visit Salvaggio Dentistry's website or call 289-569-0721.