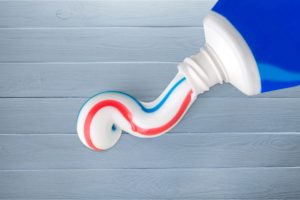 One of the major differences between regular toothpaste and whitening toothpaste is the addition of abrasives. Regular toothpaste may contain abrasives as well. However, toothpaste that promotes whitening will have a larger quantity of abrasives. The abrasive substances in the toothpaste are used to scrub away stains from the surface of the tooth's enamel. It is important to note that the size and hardness of the abrasive will also differ between toothpaste.
Why Are They Harmful?
While abrasives are helpful when removing surface stains from teeth, they don't always stop there. The abrasive substances can also remove some of the tooth's enamel due to its scrubbing action. The number of abrasives, the size of the abrasive, hardness of the abrasive, frequency of use, toothbrush used and the amount of pressure applied all affect the tooth's enamel.
Good Practices For Protecting Teeth
When selecting toothpaste, pick one with a seal of approval by your dental association. A seal of approval means the toothpaste has met the safety and efficacy standards laid out by the dental association. Choose toothpaste that promotes whitening and is approved by the CDA (Canadian Dental Association) for safe use. In the USA, the ADA (American Dental Association) is responsible for permitting dental products for sale.
Frequent use of toothpaste that contains hard abrasives in large quantities increases the risk of removing some of the tooth's enamel. Ensure that you use toothpaste that is approved by your dental association.
Do not use a toothbrush that has medium or hard bristles. Medium or hard bristled toothbrushes will wear away the enamel quickly with repeated use. Enamel wear is especially accelerated if heavy pressure is applied when brushing. This is known as toothbrush abrasion or enamel wear.
Using toothpaste that helps to strengthen enamel and help with tooth sensitivity is also recommended when whitening. If you consume an acidic diet regularly or are at risk for acid wear, it is good practice to use toothpaste that helps to strengthen enamel.
While there are many natural or at-home remedies to try and whiten teeth, exercise caution. Toothpaste that is approved by the dental association has an RDA value of 250 or lower. RDA is a measure of relative dentin abrasion of the toothpaste. Some of the items suggested for home use or natural use may exceed an RDA of 250, which is damaging to teeth.
The next time you choose to whiten your teeth keep these tips in mind. If the tooth's enamel becomes heavily damaged then cosmetic dentistry will be needed to restore your teeth and smile.
About Dr. Joseph Salvaggio
| | |
| --- | --- |
|   | Located in Brampton, Ontario Dr. Joseph Salvaggio has been practicing general, cosmetic, and implant dentistry for over 20 years. He enjoys interacting with his patients and helping to restore their oral health for better overall health as well. Meeting new patients, interacting and educating them is one of Dr. Salvaggio's biggest joys. We encourage you to read our reviews or call us with any dental questions you have. We look forward to speaking with you and meeting you soon. |