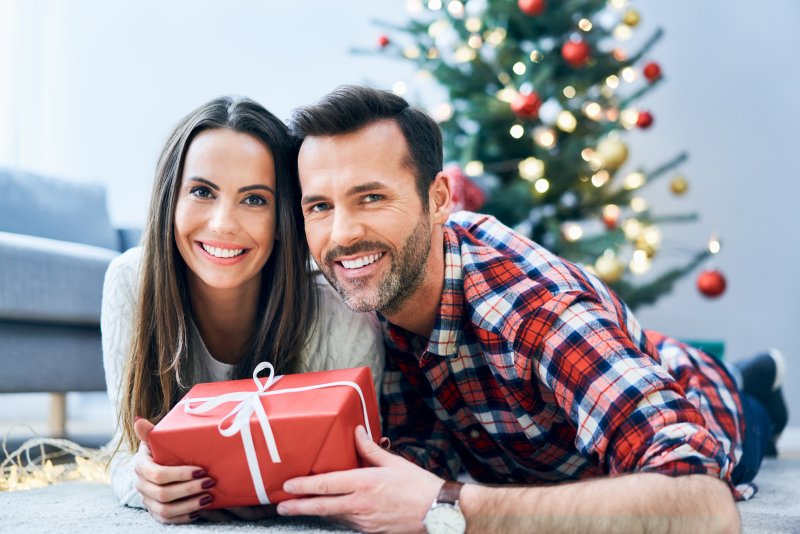 The latter part of the year is a wonderful time of festivities! From Thanksgiving to Christmas, there is an abundance of celebrations with your loved ones. The holidays are a whirl of food, fun, and family. Unfortunately, your oral health can take a hit during this busy time. It is not uncommon for people to discover that they have gotten new cavities after the holidays. Here are some factors that can contribute to a decline in your oral health during the celebrations and what you can do to keep your smile healthy!
Holiday Snacking
Holidays can be very special due to the fact you get to see many different friends and family members, but along with these visits come extra snacks and goodies. You are far more likely to partake in extra food during the holiday season than you would during other times of the year.
Unfortunately, the more frequently you snack, the higher your risk of cavities is! Snacking throughout the day feeds the cavity-causing bacteria in your mouth a steady stream of fuel. This can cause a lot more damage than if you had something really sugar in a short amount of time, since then saliva could clear away the lingering sugars. To minimize cavities this holiday season, cut back on snacking!
Sugar Feast
Pies, cookies, and cakes, oh my! The holiday season is abundant with all sorts of sugar delicacies. Starting with candy bars at Halloween to pecan pie at Christmas, your smile is exposed to more sweet stuff than normal. This constant exposure to your pearly whites makes it harder to keep them free from plaque and bacteria. When sugar settles in your mouth, it gives harmful bacteria a chance to settle and produce the acids that lead to tooth decay. Be mindful of how much sugar you're consuming and choose some healthier options instead.
Change O' Schedule
Most of the year, people's schedules remain steady and consistent with work, family, and other obligations. Then the holidays bring traveling and visits from loved ones, which oftentimes causes changes in your regular routine. While these are such special times, this can disrupt your daily oral care. No matter how early you're getting up to cook a holiday meal or how late you're staying up traveling, always make sure to take two minutes to brush your teeth twice a day.
What Can You Do to Keep Your Smile Healthy During the Holidays?
The good news is there are ways to protect your smile during this special time. To keep your pearly whites happy, consider the following:
Maintain your biannual dental checkups and exams. Preventive care is essential to your oral health.
Drinking plenty of water while you eat and throughout the day to keep saliva production high and loosen food debris.
Keep travel-friendly oral care products, including a toothbrush, floss, and mouthwash with you for on-the-go cleaning.
Minimize eating foods that are very sticky, hard, chewy, acidic, or capable of staining teeth.
Keep a balanced diet of healthy foods, especially fruits and vegetables. Balancing carbohydrates, vegetables, and proteins can reduce the urge for snacking.
Choose holiday treats that contain less sugar, such as peppermint-flavored beverages, gingerbread cookies, and dark chocolate.
The holidays are a blast, but they don't have to be a drag on your oral health. With these helpful tips and checkups with your dentist, your smile can be happy and healthy all year long!
About the Practice
Salvaggio Dentistry serves Brampton and the surrounding areas through the expertise of their team of dentists. With a focus on personalized care to achieve your best smile, they offer a wide range of services, including preventive, restorative, cosmetic, and emergency dentistry. You can keep your oral health in shape during the holiday season with their flexible hours, such as later appointments during the weekdays and availability on Saturdays! To schedule a checkup, contact them through their website or call (289) 569-0721.