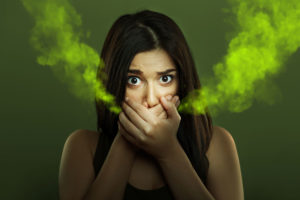 Chances are, most of us have felt that our breath is not the freshest that it could be. This may be especially true as the day goes on, and we eat various foods. Halitosis is another term for bad breath. If you have ever been around someone with unpleasant breath, you know the importance of keeping your breath as fresh as it can be!
Causes of Bad Breath
Dry Mouth: A mouth that is constantly dry results in unpleasant breath. When the mouth is properly hydrated, saliva can serve its many functions. In addition to helping with eating, saliva also performs a cleansing function. Saliva cleanses the mouth of leftover food debris and harmful bacteria in the mouth. Without the cleansing and protective effect of saliva, it is common to experience bad breath and dry mouth. Improperly functioning salivary glands in the mouth is another cause of dry mouth.
Medications: While medications do not directly cause bad breath, they do cause dry mouth. A side effect of many medications is a dry mouth. If you notice a parched mouth, talk to your doctor. They may be able to alter your dosage or switch you to a different type of medication with fewer side effects.
Gum Disease: A common cause of halitosis is due to gum disease or gingivitis. Gum disease occurs when plaque found on, and in between teeth begin to harden. Once the plaque hardens, it causes the gums to bleed and allows more plaque and food debris to become attached to the existing plaque. All of these things together lead to an unpleasant taste in the mouth and bad breath. Bad breath is also a result of having periodontal disease which is an advanced form of gum disease.
Inadequate Oral Hygiene: Keeping teeth and the tongue clean is another way to avoid having bad breath. Improper cleaning technique and lack of cleaning causes unpleasant breath.
Infection: Dental infections leave an unpleasant taste in the mouth in some cases.
Dental Decay or Cavity: Teeth that are decayed can provide an area for food to become stuck or caught when eating. If this food is not removed, it will result in bad taste and bad breath as well.
Treatment of Bad Breath
Treatment success relies on addressing the underlying issue of the unpleasant breath. Increasing fluid intake is the first step to take when trying to combat a dry mouth. Regular dental cleanings are helpful when trying to eliminate gum disease and restore oral health. If any infections are present in the mouth, dealing with the infection will help.
If you have constant bad breath, contact us to schedule an appointment. We would be happy to meet you and help you improve your oral health.
About Dr. Joseph Salvaggio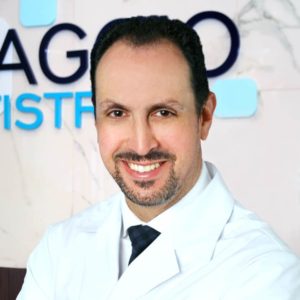 Located in Brampton, Ontario Dr. Joseph Salvaggio has been practicing general, cosmetic, and implant dentistry for over 20 years. He enjoys interacting with his patients and helping to restore their oral health for better overall health as well. Meeting new patients, interacting and educating them is one of Dr. Salvaggio's biggest joys. We encourage you to read our reviews or call us with any dental questions you have. We look forward to speaking with you and meeting you soon.