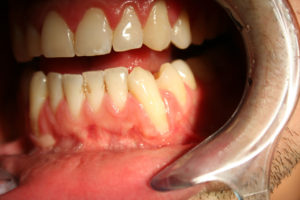 If your dentist or periodontist has told you that you need a gum graft or gum surgery, don't panic. A connective tissue graft or CTG is a routine procedure that is necessary to treat gum recession and to prevent damage to teeth.
When Is It Needed?
A gum graft is needed when the gum tissue has been damaged or lost due to trauma or gum disease. Gingivitis is a reversible disease that can be corrected with proper oral hygiene through brushing and flossing. If gingivitis is left untreated for a period of time, it progresses to periodontitis. Periodontitis causes irreversible gum and bone loss in the mouth. Gum tissue loss results in shrinking of the gums or gum recession. Gum recession can lead to tooth sensitivity or increased sensitivity because the gum tissue no longer covers certain areas of the tooth. It is best to address the cause of gum and bone loss immediately to prevent further damage. Once steps are taken to prevent future damage, bone grafting and connective tissue grafting procedures can be used to restore lost gum and bone tissue in the mouth.
Connective Tissue Graft Procedure
There are three different types of gum grafting that can be performed depending on your needs.
Connective tissue graft. This is normally used to cover tooth roots. It involves cutting tissue from the roof of the mouth to gain access to a second layer of tissue. The soft tissue is then attached and stitched to the existing gum tissue that surrounds the exposed tooth root.
Free gingival graft. This graft uses soft tissue from the roof of the mouth as well, but the first layer of tissue is used, not the second layer. This type of tissue is normally used for people who have thin gums and want to enlarge or thicken their gums.
Pedicle graft. Instead of taking soft tissue from the roof of the mouth, tissue is taken from existing gum tissue in the affected area. A flap, called a pedicle, is partially cut keeping one edge attached. The partially cut gum is used to cover the exposed tooth structure and is sewn into place. This procedure works with people who have ample gum tissue around the tooth.
In some cases, grafting material may be obtained from a tissue bank instead of from the roof of the mouth. Proteins that stimulate the body's natural ability to grow tissue and bone are sometimes used to help with the healing process.
Recovery and Post-Care Instructions
You will be able to go home after the procedure the same day. If you were given a sedative then you may have to wait longer or have a ride arranged to get home. Your dentist will advise you not to brush or floss around the gum line until the area has healed. You will also have to use a special rinse to control plaque while the gums are healing. You may also be given an antibiotic to help prevent infection. Try to eat a soft food diet for at least one or two weeks following the procedure. Foods such as eggs, pasta, yoghurt, soft cheeses, soft cooked vegetables are suitable food choices.
If you have areas of gum recession or notice increased sensitivity when eating or drinking cold foods, talk to your dental professional about treatment options.
About Dr. Joseph Salvaggio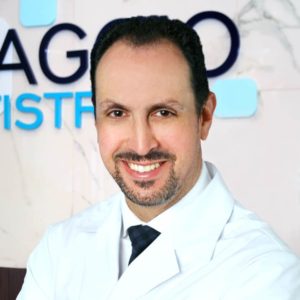 Located in Brampton, Ontario Dr. Joseph Salvaggio has been practicing general, cosmetic, and implant dentistry for over 20 years. He enjoys interacting with his patients and helping to restore their oral health for better overall health as well. Meeting new patients, interacting and educating them is one of Dr. Salvaggio's biggest joys. We encourage you to read our reviews or call us with any dental questions you have. We look forward to speaking with you and meeting you soon.