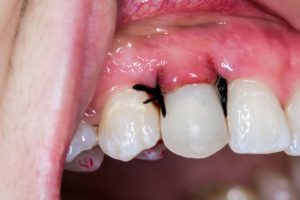 Bone grafting is a surgical, dental procedure that is performed to fix issues with the bone located in the mouth. Bone grafting, which is the process of transplanting a type of bone tissue, helps to repair bone that was damaged or lost from infection or trauma.
What Causes Bone Loss?
Bone loss in the mouth most often occurs from dental issues such as periodontitis or due to a missing tooth. When gum disease which is also known as gingivitis, is left untreated, it progresses to periodontitis. Periodontitis involves the breakdown of gum tissue and bone at the affected area. Once the bone is lost due to periodontitis, the only option to rebuild that bone is through bone grafting. Another cause of bone loss is due to missing teeth. When your tooth is present and in your jawbone, it receives stimulation from the forces of chewing and biting. This stimulation gives the bone a reason to be present in that part of the mouth. When a tooth is lost, the bone that used to support that tooth no longer has a reason to be there. Over time, the bone level will be reduced through a process called bone resorption. Smoking cigarettes are also known to double the rate of bone loss in patients.
Why Have Bone Grafting?
When your mouth has inadequate bone levels, it affects your ability to have a dental implant and to wear complete dentures. For a dental implant to be placed successfully and have the most excellent chance of success, enough bone must be present. Changes in bone levels will also affect your ability to wear a denture. Bone loss over time will also make any dentures that are worn, loose or even, due to uneven bone levels. Bone grafting can also be used to act as a support for and to build up lost or destroyed gum tissue. This is helpful when trying to treat gum recession. Changes in your bone levels may also change your facial appearance slightly or in some cases, drastically.
Which Types of Bone Are Available?
The best source for bone is your bone. This bone is usually taken from your chin or the back of your lower jaw. If there is not enough bone available in these areas, bone from the shin bone or hip may also be used. Most patients do not choose this option.
Bone is also available from human cadavers and cows. Synthetic bone materials are also available to use.
If you are interested in bone grafting and how it can help you, please contact us for a consultation.
About Dr. Joseph Salvaggio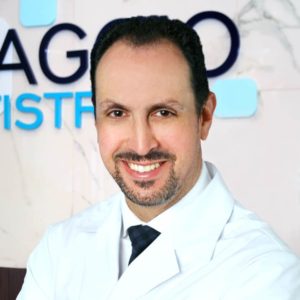 Located in Brampton, Ontario Dr. Joseph Salvaggio has been practicing general, cosmetic, and implant dentistry for over 20 years. He enjoys interacting with his patients and helping to restore their oral health for better overall health as well. Meeting new patients, interacting and educating them is one of Dr. Salvaggio's biggest joys. We encourage you to read our reviews or call us with any dental questions you have. We look forward to speaking with you and meeting you soon.