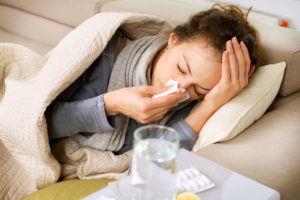 We have all experienced a cold that just doesn't seem to go away. The symptoms of a cold affects our mood, our social plans and our work productivity. As a result, we are willing to try almost anything type of remedy to get over a cold and its symptoms. Walk into any drug store or pharmacy and you are presented with a wide array of options to help you cope with your cold and cold symptoms.
Lozenges
Using lozenges that are intended to help suppress coughing and a sore throat is one popular option. Unfortunately, it is also one of the most damaging options to the health of our teeth. Lozenges are usually high in sugar content, and sucking on these lozenges prolongs the tooth's enamel contact with sugar. Lozenges are solid and sticky which makes them easily stick to the teeth and grooves of the teeth. Reducing sugar intake controls the growth of bad bacteria in the mouth. Lowering the bacterial count helps to prevent tooth decay caused by bacteria. When using lozenges, remember to rinse your mouth out thoroughly with water afterwards. If you would like to brush your teeth, wait at least thirty minutes after rinsing before you brush. Sometimes the acidic ingredients in the lozenges can cause acid wear if teeth are brushed right after being exposed to them.
Increased Fluid Intake
Most of us know that we should increase our fluid intake when we have a cold. Some patients resort to having orange juice or other types of fruit juices instead of water. As a result, the high sugar content in these drinks will increase the risk of developing dental decay. Remember to rinse your mouth vigorously with water after having sweet drinks.
Cold Mixes / Home Remedies
In addition to using lozenges, taking pills and taking medicine in liquid form, there are many home remedies to try. Some remedies include mixing various items such as honey, lemon, ginger in fluids form to be consumed. Sometimes the consistency of the liquids can be thick and viscous which makes it stick around in the mouth longer. Again, it is important to rinse your mouth with water after consuming medication or remedies in liquid form, especially if they are thick.
After the cold has passed, it is a good idea to change your toothbrush or toothbrush head if you are using an electric toothbrush. This will help to prevent some of the bacteria from entering the body again. Follow these tips the next time you have to deal with an unfortunate cold to ensure that your teeth stay healthy.
About Dr. Joseph Salvaggio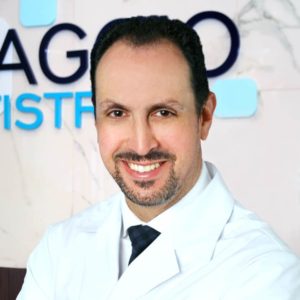 Located in Brampton, Ontario Dr. Joseph Salvaggio has been practicing general, cosmetic, and implant dentistry for over 20 years. He enjoys interacting with his patients and helping to restore their oral health for better overall health as well. Meeting new patients, interacting and educating them is one of Dr. Salvaggio's biggest joys. We encourage you to read our reviews or call us with any dental questions you have. We look forward to speaking with you and meeting you soon.