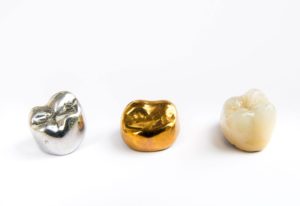 A dental crown is also known as a dental cap. It is a hollow, artificial tooth-shaped cover that is used for teeth that are damaged or decayed. The crown or cap is made to match the shape, size and colour of surrounding teeth for a natural look. The crown or cap also strengthens the tooth.
After the crown is permanently cemented into place on top of the tooth, it completely covers the entire top portion of the tooth that is above the gum line.
When is a dental crown needed?
To support a tooth with a large filling or multiple fillings by covering it
To keep a dental bridge securely in place
For protecting teeth from breaking or to strengthen parts of a cracked tooth
For restoring the appearance and strength of a broken tooth
To alter the shape or colour of a tooth for cosmetic or functional purposes
To cover a dental implant that is placed
Types of crowns
· Stainless steel crowns: There are generally used as a temporary crown while the permanent crown is being made. They may also be used for children until the permanent teeth come in since they are a cost-effective option.
· Porcelain-fused-to-metal crowns or PFM crowns: These crowns can be made to match the colour of surrounding teeth for a natural look. Sometimes the underlying metal portion of the crown can show up as a dark line, usually near the gum line, especially with gum recession. These crowns can be a good choice for front or back teeth.
· Ceramic or all porcelain crowns: These provide a better match in colour to surrounding teeth than other crown types.  While they are not as durable as porcelain fused to metal crowns, they are an excellent choice for front teeth and those with metal allergies.
· Resin crowns: These are the least expensive of all the options, but they wear down quicker and fracture easily.
· Milled crowns: These are digitally made in an office with the technology available or dental lab.
· Metal crowns: these include gold alloy or other alloys. They last the longest, but due to their colour, most people opt for them to be used in the back of the mouth.

What is the process?
The tooth size must be reduced so that the crown can cover it adequately. After reducing the tooth size, an impression or the tooth will be taken. The colour, shape and size of the crown will be decided if it is not a metal crown. A temporary crown will be used to cover the reduced or prepared tooth while the permanent crown is made. Once the permanent crown is ready, the temporary crown is removed, and the permanent crown is cemented unto the prepared tooth.
If you require a crown, whether it is for needed treatment or for cosmetic reasons, give us a call to have a complimentary consultation with one of our dentists.
We also have CEREC technology available in our office so that you can get your crown the same day as your dental visit!
About Dr. Joseph Salvaggio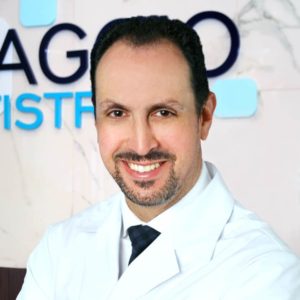 Located in Brampton, Ontario Dr. Joseph Salvaggio has been practicing general, cosmetic, and implant dentistry for over 20 years. He enjoys interacting with his patients and helping to restore their oral health for better overall health as well. Meeting new patients, interacting and educating them is one of Dr. Salvaggio's biggest joys. We encourage you to read our reviews or call us with any dental questions you have. We look forward to speaking with you and meeting you soon.