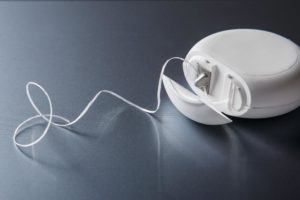 Have you stood in the dental aisle of a store, unsure of which floss or toothbrush is right for you? This post is aimed to help you figure out which types of dental floss are best suited for your mouth and oral health.
Why Should You Use Dental Floss?
If you only brush your teeth and you do not floss your teeth, you can miss cleaning up to 35% of the tooth surfaces in your mouth! When used correctly, flossing can remove leftover food particles, dental plaque located in between teeth and bacteria. Most times we can feel when something is stuck in between our teeth, and we floss it out right away. However, there are many leftover food particles that we cannot feel in between our teeth.
What Happens If I Do Not Floss?
If you avoid flossing your teeth for an extended period of time, dental plaque will build up in between your teeth and harden. Dental plaque builds up at different rates in different people. Once the plaque hardens, we call it tartar or calculus. When the plaque hardens, it is not possible to remove it through brushing and flossing alone. You would require a professional dental cleaning at this point. Leaving plaque in between teeth will also cause the gum disease known as gingivitis. Symptoms of gingivitis include red, swollen and bleeding gums. Gingivitis can progress to periodontitis, which includes gum and bone loss.
Types of Dental Floss:
Waxed Floss
This type of floss is helpful for people who have very tight spaces or contacts in between their teeth. The waxed coating on this floss makes it easier to slide in and out between teeth.
Unwaxed Floss
Unwaxed floss can be used if you do not have very tight spaces in between teeth. Unwaxed floss makes a squeaky noise when the plaque has been removed from in between the teeth.
Floss Picks
Floss picks can be used in place of regular waxed or unwaxed floss, especially for those who have issues with dexterity.
Floss Threader
Floss threaders are useful for those with traditional braces. These can be threaded, similar to a needle and then inserted in between teeth so that the floss can be pulled through. Your dentist or orthodontist can supply you with these if you cannot find them in the store.
Super Floss
This type of floss is sectioned to have thin and thick portions. The thin part allows for cleaning tighter areas and also allows you to slide the floss in between teeth. The thicker areas are used to clean wide spaces in between teeth.
For patients with wide spaces or gaps between their teeth, floss will likely be less effective. Patients with wide gaps between teeth should use interdental cleaners, pictured below.
Once you choose the right type of floss for your needs, learn how to select the right toothbrush to ensure a complete clean.
If you have any questions or would like recommendations on selecting and using the best floss for your needs, talk to your dentist or dental hygienist.
About Dr. Joseph Salvaggio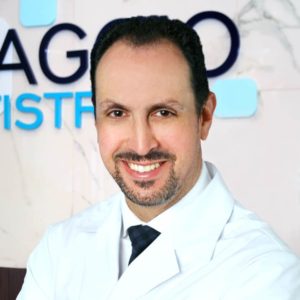 Located in Brampton, Ontario Dr. Joseph Salvaggio has been practicing general, cosmetic, and implant dentistry for over 20 years. He enjoys interacting with his patients and helping to restore their oral health for better overall health as well. Meeting new patients, interacting and educating them is one of Dr. Salvaggio's biggest joys. We encourage you to read our reviews or call us with any dental questions you have. We look forward to speaking with you and meeting you soon.