Dental veneers are also known as porcelain veneers.  They are thin custom-made porcelain shells that fit directly on top of your existing teeth.  The porcelain veneers are bonded to the front of your teeth to change their colour, shape, size, or length.  They can be made with porcelain or composite resin.  Veneers made with porcelain will help to resist stains better than veneers made of composite resin.  Another benefit of porcelain veneers is that they mimic lighting reflections closely to natural teeth.  The advantage of composite resin veneers is that they require less natural tooth material to be removed so that they can be fitted.  Your dentist can explain the different options with you.
What Can Dental Veneers Fix?
Veneers are often used to fix the following things:
Discoloured Teeth that may result from root canal treatment; staining due to drugs, excessive fluoride, fillings that have discoloured the tooth, or any other cause
Teeth that are worn down
Teeth that are chipped or broken
Teeth that are misaligned, uneven, or irregularly shaped (for example, have craters or bulges in them)
Teeth with gaps between them, also known as a diastema
What Is Involved?
Treatment plan – The first step is to create a treatment plan that is suited to your dental needs and desires. You should talk to your dentist about the results you wish to achieve with cosmetic dentistry. Your dentist will examine your teeth to ensure that dental veneers are a good option for you. Dental impressions and/or digital x-rays may be taken at this appointment as well in some cases.
Preparation – Your dentist will usually remove a small amount of enamel from the surface of the tooth, to bond the dental veneer on top of your existing tooth. A dental model of your tooth or teeth is created by taking a dental impression of your teeth. The model is sent to a dental laboratory, that will create the dental veneer. Temporary dental veneers can be made and attached to your tooth while waiting for the permanent dental veneers if you like. Talk to your dentist about this option, if you are interested.
Bonding – Your dentist will place the dental veneer temporarily on your tooth first to check the fit and colour. They may trim the dental veneer if needed to get a proper fit. The colour of the dental veneer can be changed based on the shade of cement used. Your tooth will be cleaned, polished, and etched, to allow for a strong bond. When the dental veneer is positioned correctly, a curing light will be used to finalize the bonding process. You may have to return to the office for a follow-up visit to monitor your gums and the dental veneer.
If you would like to change your smile, dental veneers can enhance your smile dramatically. Contact us for more information.
About Dr. Joseph Salvaggio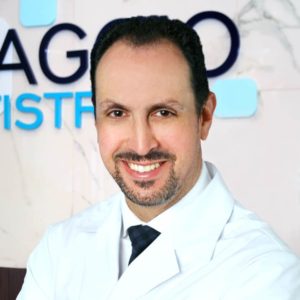 Located in Brampton, Ontario Dr. Joseph Salvaggio has been practicing general, cosmetic, and implant dentistry for over 20 years. He enjoys interacting with his patients and helping to restore their oral health for better overall health as well. Meeting new patients, interacting and educating them is one of Dr. Salvaggio's biggest joys. We encourage you to read our reviews or call us with any dental questions you have. We look forward to speaking with you and meeting you soon.