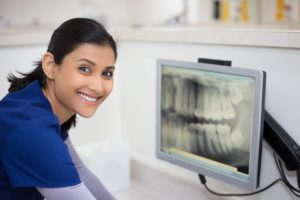 X-rays may also be referred to as radiographs. X-rays are an essential component of any dental exams or treatment plan. They allow the dentist to make an accurate diagnosis and can play a preventative role as well. When dental x-rays are taken at regular intervals that are suited for your oral needs, they can allow dental professionals to detect oral issues early.
An x-ray passes through the oral cavity and displays an image in two dimensions. Dental x-rays can be taken either inside the mouth or outside the mouth. These are referred to as intra-oral and extra-oral x-rays.
Film x-rays have been used in dentistry traditionally, but more and more dental offices are making the shift towards digital x-rays.
Benefits Of Digital X-Rays
One of the significant benefits of digital x-rays is the reduction in the amount of radiation present. Radiation from traditional x-rays using fast film are already low, but with the introduction of digital technology, that number has been reduced even more. Radiation exposure times are 50 to 80% shorter for digital x-rays when compared to traditional film x-rays, which results in up to 70% less radiation.
Another benefit is the improved diagnostic ability that digital images provide. With digital images, the image produced is larger, and as a result, it is easy to detect issues or defects in the mouth. Some of the benefits of using x-rays include:
· Ability to look for potential issues such as:
– areas of decay
– bone diseases or defects
– cysts
– abscesses
– presence of periodontal disease
– development issues
– abnormalities
– types of tumours
– effects of trauma to the mouth
· Determine the health of surrounding bone around teeth
· Monitor the development and eruption of teeth
· Maintain oral health through regular preventative exams
We follow the ALARA principle which stands for "As Low As Reasonably Achievable." This means that we take advantage of all advances in radiography to ensure that our patients are exposed to the least amount of radiation possible. It also means that we determine your need for x-rays and the frequency of that need, based on your individual needs.
While all patients should have x-rays taken as certain intervals to monitor their oral health and detect issues before they become serious though preventative measures, some patients may require x-rays at a more frequent interval. Patients with a history of periodontal disease, tooth decay, cysts, etc. will usually need to have x-rays more often since they are at an increased risk of developing these issues again.
With modern advancements in digital x-ray imaging technology, the amount of radiation that patients are exposed to will continue to reduce. X-rays allow dentists and other health care providers to see more and to detect issues at their onset before they become serious. Rest assured that every precaution is being taken to reduce the amount of radiation present for all of our patients.
About Dr. Joseph Salvaggio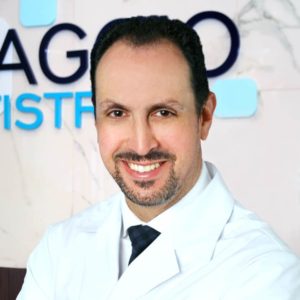 Located in Brampton, Ontario Dr. Joseph Salvaggio has been practicing general, cosmetic, and implant dentistry for over 20 years. He enjoys interacting with his patients and helping to restore their oral health for better overall health as well. Meeting new patients, interacting and educating them is one of Dr. Salvaggio's biggest joys. We encourage you to read our reviews or call us with any dental questions you have. We look forward to speaking with you and meeting you soon.