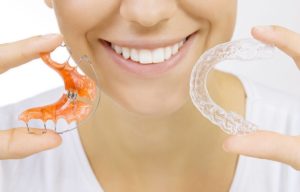 Your braces just came off, or you just finished your Invisalign treatment – great! However, you are now presented with two options. Would you like to have a permanent retainer or a removable one? Learn about the benefits and drawbacks of both options before you make your decision.
Why Are Retainers Necessary?
Orthodontic treatment is used to move teeth into an aligned position. However, teeth rarely stay in the final position we want them to. Over time, teeth tend to start drifting or moving. Imagine going through one or two years of orthodontic treatment, only to have your teeth shift out of alignment. Fortunately, a retainer prevents this problem. When worn or applied to the teeth, it prevents unwanted movement.
Permanent Retainer
These are also referred to as a fixed or a bonded retainer. Even though the name implies that it is permanent, it can be removed by a dental professional in cases where it is necessary. It is a wire that is cemented to the back of your teeth. The wire is curved to adapt to the curvature of the back of your teeth. This bonded wire prevents the teeth from shifting or moving. It is usually applied from one canine tooth to the other canine tooth.
Benefits of a permanent retainer
Teeth will not change position
No chance of forgetting to wear it
Ensures patient compliance
Cannot be seen when you smile
Disadvantages
Increased chance of cavities if the areas around the wire are not properly cleaned
Must use a special floss threading tool to floss under the wire
May become damaged or worn over time but can be easily replaced
Removable Retainer
These are larger and not permanently bonded to the teeth. However, it must be manually inserted back into the mouth every time it is removed.
Benefits of a removable retainer
Can be easily removed by the wearer to eat, floss, or brush teeth
Easily cleaned once they are out of the mouth
Less chance of becoming damaged when eating because they are out of the mouth
Disadvantages of a removable retainer
Teeth will move if they are not worn
Poor patient compliance, patients may forget to wear them
Easier to lose when it is taken out of the mouth
Your dental professional will discuss both options with you to ensure that the option you choose best fits your lifestyle. Contact us today for more information.
About Dr. Joseph Salvaggio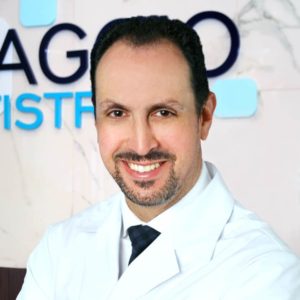 Located in Brampton, Ontario Dr. Joseph Salvaggio has been practicing general, cosmetic, and implant dentistry for over 20 years. He enjoys interacting with his patients and helping to restore their oral health for better overall health as well. Meeting new patients, interacting and educating them is one of Dr. Salvaggio's biggest joys. We encourage you to read our reviews or call us with any dental questions you have. We look forward to speaking with you and meeting you soon.