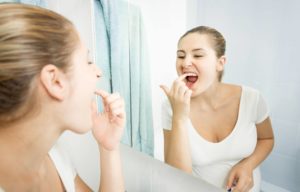 Have you ever been eating and you notice an area in your mouth where food is constantly being stuck? You may have a food trap in that case. It is an area where pieces of food are regularly caught during eating or after you have finished eating.
What Causes A Food Trap?
There are a few causes that will result in food getting caught in the mouth, however, each of them is treatable.
Cracked Tooth
A tooth that is cracked or has a cavity can create an area or space for food to become stuck when eating. This type of issue is treated with a dental filling. For large cracks or fillings, a dental crown may be necessary.
Improper Contact
If a dental filling or a dental crown is improperly restored, it can create an area for food to become stuck as well. A restoration that has too much extra filling material and is not flush with the rest of the tooth is one possible reason. On the other hand, a dental filling or crown that does not have enough material to make contact with a nearby tooth can leave a gap or space for food to become caught. If you notice a food trap in an area of your mouth that was recently restored, let your dentist know. It is also possible for an old filling to become damaged which can also cause an issue.
Receded Gums
When the gum tissue shrinks or becomes loose, it causes gaps or spaces between the gums and the tooth. Gaps will enable food to become easily trapped. Using the right dental cleaning tools will help keep these areas clear as a short-term solution. A long-term fix would be to treat the cause of the gum recession. Gum recession may be due to gum disease or toothbrush abrasion.
Loose or Mobile Teeth
Teeth that are loose or mobile due to periodontal disease also create spaces for food to become trapped. Fixing the cause of the periodontal disease through improving oral health or through the use of bone grafting are possible treatment options.
Why Fix A Food Trap?
While flossing or rinsing your mouth may be enough to dislodge food from a food trap, it isn't ideal. In some cases, food may become stuck in deep areas under the gums. In deep areas, dental floss will not be adequate to reach the area. If pieces of food are left under the gums for long periods of time, issues will arise. You may notice bad or unpleasant breath, or you may even risk developing an infection that can lead to gum and tooth loss.
If you constantly have to floss or rinse one particular area more than another after eating, you may have a food trap. Contact us to schedule a complimentary consultation; we would be happy to discuss all treatment options.
About Dr. Joseph Salvaggio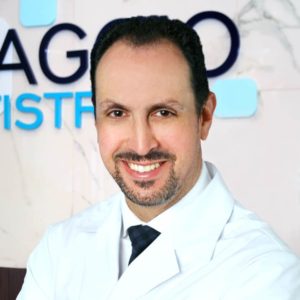 Located in Brampton, Ontario Dr. Joseph Salvaggio has been practicing general, cosmetic, and implant dentistry for over 20 years. He enjoys interacting with his patients and helping to restore their oral health for better overall health as well. Meeting new patients, interacting and educating them is one of Dr. Salvaggio's biggest joys. We encourage you to read our reviews or call us with any dental questions you have. We look forward to speaking with you and meeting you soon.