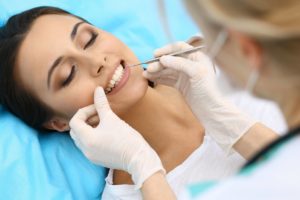 In health, your gums and the bone that surrounds your teeth should fit snugly around the tooth. Periodontal disease which is the breakdown of the supporting bone and gum around teeth causes looseness and causes pockets to develop around the tooth. These pockets make it easier for food to get stuck and makes it harder to clean them properly. These pockets usually become deeper, which creates even more room for bacteria to dwell in and cause damage. This progression of periodontal disease can eventually lead to tooth loss if not treated. Some patients also experience sensitivity to cold and hot foods due to exposed tooth roots. Due to the deep pockets which form, regular flossing and brushing are not enough to clean these deep areas properly. When periodontal disease has caused moderate to severe bone loss, regenerative procedures are recommended.
Guided Tissue Regeneration Can Help
Guided Tissue Regeneration or GTR helps to regenerate lost gum and bone tissue by stimulating growth. GTR is usually done alongside bone grafting. Bone grafting treatment is performed first, to stimulate additional bone growth and to provide an area for your natural bone to grow. The bone grafting material may be bone taken from another area of your body, a tissue bank or may be synthetic bone. GTR is used to encourage and facilitate your body's natural ability to grow gum and bone tissue.
Benefits of Guided Tissue Regeneration (GTR)
Periodontal disease can be stopped with a combination of removing bacteria and promoting bone and tissue growth through regeneration. Once the existing bacteria is removed, and the bone and gum tissue are back to normal levels, periodontal pockets are usually eliminated.
What Is The Process?
During this treatment, the gum tissue is cut to allow access to clean areas with pockets thoroughly. Once clean, a membrane which is resorbable or non-resorbable is placed between the gum tissue and the bone. The membrane helps fast-growing soft tissue to grow without affecting slower-growing bone. Non-resorbable membranes require removal afterwards, whereas resorbable membranes do not. The initially cut gum is then sutured or stitched up and allowed to heal for approximately 3 to 4 months. Usually, the bone level and gum tissue growth will grow to a level high enough that deep pockets are eliminated. This allows for easier access and the ability to properly clean these areas.
If you have bone loss, gum loss or exposed tooth roots, guided tissue regeneration may be able to help. Contact us to schedule a complimentary consultation.
About Dr. Joseph Salvaggio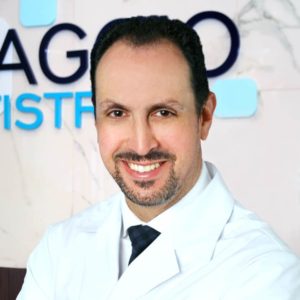 Located in Brampton, Ontario Dr. Joseph Salvaggio has been practicing general, cosmetic, and implant dentistry for over 20 years. He enjoys interacting with his patients and helping to restore their oral health for better overall health as well. Meeting new patients, interacting and educating them is one of Dr. Salvaggio's biggest joys. We encourage you to read our reviews or call us with any dental questions you have. We look forward to speaking with you and meeting you soon.