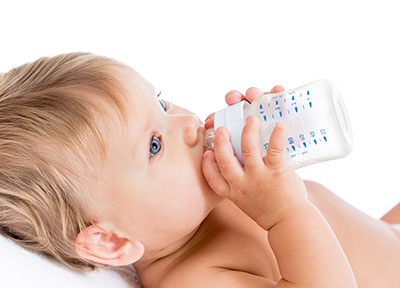 Tooth decay occurs from sugar being exposed to the teeth, or being stuck to the tooth or around teeth. Bottles that contain anything but water have the potential to cause decay in baby teeth. The most commonly affected teeth from bottles are the upper front teeth, but sometimes it can also affect the lower front teeth and the back teeth. It can be challenging to see when cavities begin forming, but when they are more advanced, the teeth start turning brown and chipping.
Avoid Doing These Things
Dipping pacifiers in anything containing sugar (syrup, honey, juice)
Putting juice or sugar water into a bottle
Putting your baby to bed with a bottle containing anything but water (even milk has natural sugars that can cause cavities)
Not wiping/brushing your baby's teeth after a bottle of milk
Good Habits
Never put your baby to bed with a bottle
Not dipping a pacifier in anything
Never give your baby juice, syrup or soda
Always brushing your baby's teeth after a bottle of milk. If there are no teeth yet, use a damp gauze to wipe their gums
Beginning a fluoride toothpaste at the age of 3, apply a tiny amount to the toothbrush
Start flossing once teeth are erupting and if any teeth touch together
Reducing sugar in your baby's diet
Regular dental check-ups once your baby begins getting teeth
Effects of Baby Bottle Cavities
Keeping baby teeth healthy is essential for many reasons. Cavities in baby teeth can cause your child unnecessary pain and discomfort. Baby teeth are vital for chewing, speaking and smiling. Baby teeth are also placeholders for the adult teeth to erupt. If baby teeth are lost prematurely, the adult teeth may erupt out of position and in poor condition, as well as your baby may develop poor eating habits and speech issues. It is possible to correct bad habits by slowly diluting bottles and reducing sugar.
If you believe your baby might have a cavity, or have any questions about baby bottle cavities and how to prevent them, we encourage you to contact us today to schedule an appointment.