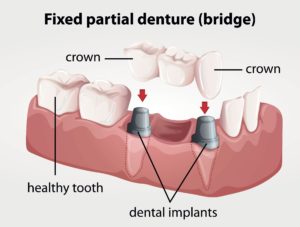 Similar to a traditional dental bridge, an implant-supported bridge looks the same. However, the benefits of an implant-supported bridge far exceed that of the conventional dental bridge. Natural teeth support a traditional dental bridge. However, an implant-supported bridge is supported by dental implants.
Two dental implants are required when placing a three-unit dental bridge. For a longer unit bridge, the number of dental implants will be varied depending on many factors. Factors such as the area of the mouth, length of the bridge, bone levels, etc. are taken into consideration before placing the implant-supported dental bridge. Each dental implant placed in the jawbone has a dental crown on top of it. There is usually one crown in the middle of two dental implant crowns, as seen in the image below.
Benefits Of An Implant-Supported Bridge
The benefits of a dental implant are the same benefits that are gained with an implant-supported bridge. A few of the main benefits include:
Fused Integration: The threads of the dental implant fuse to the jawbone which results in a stable and secure fit.
Bone Preservation: Because a dental implant fuses to the jawbone, regular chewing and grinding forces transfer to the bone through the dental implant.
Retain Your Facial Appearance: Since the dental implant preserves bone, your facial appearance remains the same as well.
Enjoy All Foods: Due to the stable fit of the implant-supported bridge, you can enjoy all of your favourite foods without worry.
No Cavities: Unlike natural teeth, dental implants cannot get cavities due to their material makeup.
Dental Considerations
While a traditional dental bridge may cost less upfront when compared to an implant-supported bridge, you should consider the long-term costs. The benefits of an implant bridge allow them to last longer when compared to a traditional dental bridge. This means that you will require fewer adjustments, repair, and replacements versus a conventional dental bridge.
If you are in need of a dental bridge and would like more information, give us a call to schedule your free consultation.
About Dr. Joseph Salvaggio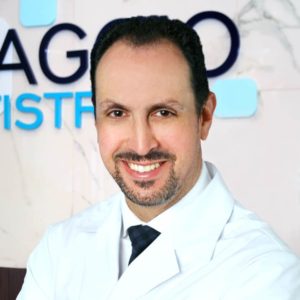 Located in Brampton, Ontario Dr. Joseph Salvaggio has been practicing general, cosmetic, and implant dentistry for over 20 years. He enjoys interacting with his patients and helping to restore their oral health for better overall health as well. Meeting new patients, interacting and educating them is one of Dr. Salvaggio's biggest joys. We encourage you to read our reviews or call us with any dental questions you have. We look forward to speaking with you and meeting you soon.