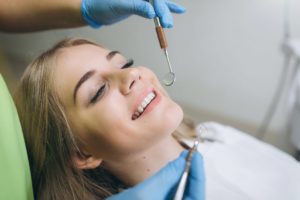 The main thing that people think of when they think of a dental exam is to look for cavities. However, dental exams are useful for many more things, some of which are not even dental related. A dental exam can last a few minutes or last from 20 minutes to an hour. Most people are used to a dental check-up which occurs a couple or a few times a year. A complete oral exam or comprehensive exam, on the other hand, takes much longer and is done every three to five years.
Unrelated Dental Benefits
Your dentist or dental professional is trained to look for more than just cavities. Here are a few things that a dental exam can help to detect.
Diabetes
There are some symptoms that occur in the mouth that can help to determine if diabetes is present. If your dentist notices decreased saliva and a frequently dry oral environment, it might be a warning sign for diabetes. Gums that bleed often or easily, issues tasting food, delayed healing of tissues, an increase in oral infections may all indicate the presence of diabetes and a reason to be tested. Patients with diabetes have an increased risk of gum disease and tooth loss as well.
Oral Cancer
Dental professionals look for signs of oral cancer during dental exams. Areas in the mouth that appear red or white are potential signs of oral cancer. These white or red spots can appear on the tongue, the roof of the mouth, or bottom of the mouth. Risk factors for oral cancer include heavy use of alcohol, human papillomavirus, and smoking.
Infections
If your dentist notices swelling, redness in certain areas, fevers, extreme pain and drainage of wounds, it probably means you have an active infection. Infections should be treated immediately due to the risk of spreading to the heart and lungs.
Human Immunodeficiency Virus (HIV)

Symptoms in the mouth such as lesions, certain spots in the mouth, warts, infections are warning signs for HIV. Your dentist will be able to refer you for further testing if they believe you may have an infection or HIV.
High Stress
Some stress during life is expected. However, high-stress levels can result in damage to the body. One manifestation of high-stress is constant grinding or clenching of the teeth. During an exam, your dentist can look for signs of wear due to grinding or clenching. Wearing a custom-made night guard can help prevent further damage. Relaxation techniques may also be recommended to help control stress levels.
Nutritional Deficiencies
A nutritional deficiency that occurs as a result of an eating disorder or malnutrition will manifest signs in the mouth. Signs such as bleeding gums and erosion on the backs or insides of the teeth are symptoms of a potential eating disorder.
Remember that dental exams are important for more than just the health of your teeth and gums. They should not be avoided or skipped. If it has been a long time since your last dental visit or dental checkup, contact us to schedule a visit.
About Dr. Joseph Salvaggio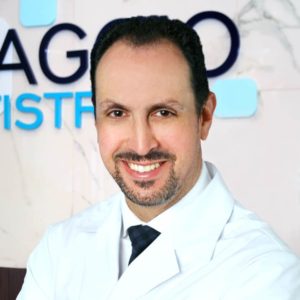 Located in Brampton, Ontario Dr. Joseph Salvaggio has been practicing general, cosmetic, and implant dentistry for over 20 years. He enjoys interacting with his patients and helping to restore their oral health for better overall health as well. Meeting new patients, interacting and educating them is one of Dr. Salvaggio's biggest joys. We encourage you to read our reviews or call us with any dental questions you have. We look forward to speaking with you and meeting you soon.