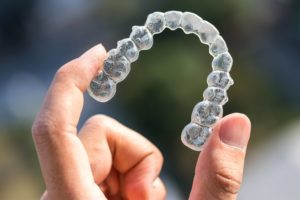 Invisalign uses a unique method to straighten your teeth. Traditional metal braces are not removable and can be challenging to keep clean. Invisalign, on the other hand, uses custom-made aligners created just for you. The comfortable aligner trays come in a set that are smooth and almost invisible. When you wear the aligner trays, they gently shift your teeth into place over time.  There are no metal wires or brackets to deal with or wires to adjust.
How Does It Work?
Invisalign is almost effortless.  You have to wear a new set of aligner trays about every two weeks.  The trays will gradually move your teeth into place until your treatment is complete. There is minimal adjustment that you have to make in your daily life.  You can have a great smile with very little interference in your life.  Most of your friends and family will not even though that you are straightening your teeth.
What Can Invisalign Treat?
Invisalign can be used to treat many dental issues that were once too complicated to treat in the past.  Examples of dental problems that Invisalign may be able to address are:
Crowded Teeth – Crowding occurs due to inadequate space in your jaw your teeth to fit properly. If untreated, crowding can get worse with time, and progress to crooked teeth. Overcrowding makes plaque accumulation easier.  This can lead to tooth decay and increased risk of gum disease.
Crossbite – This occurs when your jaws are not aligned properly.  This can cause uneven and early wear of the teeth.
Gapped Teeth / Spacing – Gaps or spaces between teeth can occur due to the extra growth of the jawbone. A missing tooth or missing teeth causes nearby teeth to drift into the newly created space, creating gaps between teeth.
Overbite – Overbite or overjet occurs when the upper teeth bite and cover the lower teeth. It can be caused by genetics, bad oral habits, or an underdeveloped bone that supports the teeth.
Underbite – This occurs when the lower teeth extend past the front teeth. It can be caused by an underdeveloped upper jaw or overgrown lower jaw, or both. This can cause painful jaw and joint problems.
Open Bite – This occurs when some teeth do not make contact with the opposing teeth when you bite. This can lead to TMJ issues.
If you are interested in learning more about Invisalign, contact us to schedule your free consultation now!
About Dr. Joseph Salvaggio
| | |
| --- | --- |
|   | Located in Brampton, Ontario Dr. Joseph Salvaggio has been practicing general, cosmetic, and implant dentistry for over 20 years. He enjoys interacting with his patients and helping to restore their oral health for better overall health as well. Meeting new patients, interacting and educating them is one of Dr. Salvaggio's biggest joys. We encourage you to read our reviews or call us with any dental questions you have. We look forward to speaking with you and meeting you soon. |