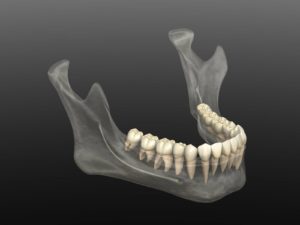 Jawbone preservation uses treatment and prevention to help preserve bone structure in the mouth.
Why Is Jawbone Preservation Important?
While we all know that keeping our teeth healthy and saving them is important, we rarely think about our jawbone. The bones of the mouth provide an important anchor for teeth and their supporting elements. Loss of jawbone results in loose or unstable teeth as well as a sunken facial appearance.
Effects of Jawbone Loss
Loose or Missing Teeth
In health, the bone that surrounds a tooth is at a high level. When the bone levels are low around a tooth, that tooth becomes loose or unstable. A loose tooth makes chewing difficult and increases the chance of tooth loss. Bone loss around a tooth may occur due to periodontitis which involves the breakdown of gum, and bone loss. Injury or trauma to teeth or the mouth will also result in tooth loss.
Altered Smile Line
A missing tooth also contributes to shifting of nearby teeth. When a tooth is lost, the nearby teeth tend to drift into the empty area left by the missing tooth. Under normal conditions, teeth are prevented from continuously erupting due to opposing teeth being in its path. When there is no tooth present to block the opposing tooth, it keeps erupting further into the mouth.
Sunken or Sagging Appearance
In addition to keeping teeth stable and in place, bone helps retain the appearance of the face. When bone is lost or reduced in the mouth, it gives the face a sunken look. Bone loss in the mouth combined with tooth loss results in an even saggier or sunken look.
Jawbone Preservation Treatment
While the best course of action is prevention, there are many treatment options available to restore lost bone. Bone grafting treatment helps restore lost bone that the body cannot restore. Dental implants can stop bone loss when they are used in the area of a previously missing tooth. Talk to your dentist about treatment options if you have bone loss in your mouth.
About Dr. Joseph Salvaggio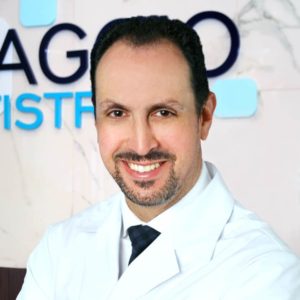 Located in Brampton, Ontario Dr. Joseph Salvaggio has been practicing general, cosmetic, and implant dentistry for over 20 years. He enjoys interacting with his patients and helping to restore their oral health for better overall health as well. Meeting new patients, interacting and educating them is one of Dr. Salvaggio's biggest joys. We encourage you to read our reviews or call us with any dental questions you have. We look forward to speaking with you and meeting you soon.