Similar to the doctor's office, most people do not look forward to going to the dentist's office too. However, the reasons for avoiding the dental office can be due to extreme fear or anxiety. Some patients may nervously schedule their dental appointment and show up at the dentist. However, there are some patients who flat our refuse to see the dentist. It is estimated that between 10 to 15% of North Americans avoid seeing their dental due to fear. There is no need to feel worried, ashamed, or guilty during your dental visit. Dental professionals are trained to make dental appointments as comfortable and stress-free as possible. Keep these tips in mind to help you to manage your dental anxiety.
Helpful tips to follow during your dental visit:
Pick a dentist that makes you feel comfortable – talk to your dentist about your dental fears or anxiety. Ensure that your dentist understands your dental fear or anxiety so that they can help make your visit comfortable.
Be Open – Be comfortable and open when talking to your dentist about your concerns. Explaining your dental fears gives your dental professionals hints on how to make your visit more comfortable. Some patients like to have procedures explained during their appointment so they understand what is happening. Have your dental professional to explain the process if it will be helpful to you.
Ask For Headphones– For many patients, the sounds produced during a dental appointment cause anxiety. Ask for headphones so that you can listen to music or watch TV during your visit. Try bringing your own headphones and music if your dental office does not offer headphones. Noise-canceling headphones help many patients to drone out the noise.
Relaxation or breathing techniques– Learning relaxation or breathing techniques help you to manage your dental anxiety.
Ask for a break – You may be able to ask your dental professional for a small break during certain dental procedures.
Consider Multiple Appointments – If your dental treatment plan requires extensive dental work, consider having multiple appointments. While it may seem counter-intuitive for someone with dental fear, shorter appointments can make visits more manageable.
Sedation Dentistry – Different dental sedation options are available to help patients with a little anxiety to patients with an extreme fear or phobia.
Maintain good oral hygiene– Ensure brushing and flossing twice daily to maintain good oral health. A cleaner mouth, means less time in the dental chair.
Don't Neglect Your Oral Care
Many dental professionals understand that their patients may be apprehensive when going to the dentist or have an extreme fear of the dentist. The right dental team will help ensure that you have as comfortable a dental visit as possible. Many patients overcome their fear or anxiety of the dentist once they find a dental office that makes them feel relaxed during their visit. It is important to note that there have been many recent advancements in dentistry today. This means shorter visits and better technology when compared to dental care you may have experienced many years ago. Many dental professionals realize that walking through the door is the hardest part for patients with anxiety or fear. Take the first step towards better oral health today. Call us to schedule your visit now.
About Dr. Joseph Salvaggio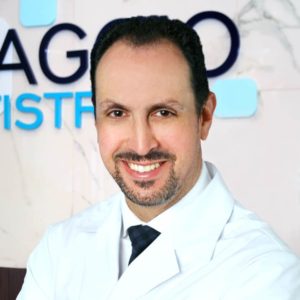 Located in Brampton, Ontario Dr. Joseph Salvaggio has been practicing general, cosmetic, and implant dentistry for over 20 years. He enjoys interacting with his patients and helping to restore their oral health for better overall health as well. Meeting new patients, interacting and educating them is one of Dr. Salvaggio's biggest joys. We encourage you to read our reviews or call us with any dental questions you have. We look forward to speaking with you and meeting you soon.