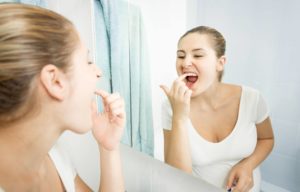 Having loose teeth can be concerning, mainly depending on the cause. Common causes include:
Advanced Gum Disease
Gum disease in the beginning stages is unlikely to cause loose teeth. However, when gum disease is left untreated, it progresses into periodontitis. Periodontitis is an advanced stage of gum disease which involves the breakdown of the gum tissue around the tooth. The supporting bone that surrounds each tooth is also broken down. The combined loss of gum tissue and bone around a tooth results in loosening of the tooth. Once a significant amount of gum and bone loss occurs, the tooth will eventually fall out.
Injury or Trauma
Falling face-down or receiving a blow to the mouth from an object is another possible cause of loose teeth. Any time there is there injury or trauma to the tooth, you should see your dentist. Your dentist can take an x-ray to determine the extent of the damage, and if treatment is needed right away.
Grinding Your Teeth
Grinding your teeth regularly during the day or while sleeping can lead to loose teeth. It also leads to possible sensitivity in the teeth as well as earaches, headaches, and other issues in some patients. It is important to let your dentist know if you find yourself grinding or clenching your teeth throughout the day or during sleep.
Treatment of Loose Teeth
Splinting
Splinting involves the bonding of a loose tooth to a stable tooth to secure the loose tooth. Care must be taken when chewing or eating in this area.
Gum Disease treatment
Gum disease causes swelling and inflammation, however, when the gum disease treatment, the swelling reduces, and the gums become tight around the teeth.
Bone Grafting
Bone grafting is another possible treatment option that aims to increase the bone levels around a tooth or multiple teeth. Once the bone has been built up around the tooth, the tooth is secure.
Dental Implant Replacement
Despite best efforts to save a loose tooth, sometimes so much bone has been lost that the only remaining option is to remove the loose tooth and replace it. A severely loose tooth may cause pain and little to no function while eating. As a result, your dentist may recommend extracting the tooth. A dental implant is considered the best tooth replacement option available for many reasons. However, one of the significant advantages is the ability of an implant to look, feel, and function just like a natural tooth.
If you have a loose tooth or many loose teeth, see your dentist early. Addressing dental issues right away is the best way to avoid invasive treatment and potential pain.
About Dr. Joseph Salvaggio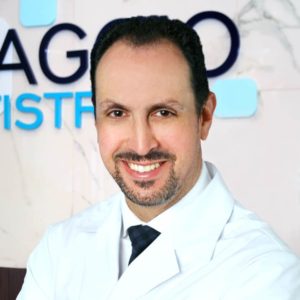 Located in Brampton, Ontario Dr. Joseph Salvaggio has been practicing general, cosmetic, and implant dentistry for over 20 years. He enjoys interacting with his patients and helping to restore their oral health for better overall health as well. Meeting new patients, interacting and educating them is one of Dr. Salvaggio's biggest joys. We encourage you to read our reviews or call us with any dental questions you have. We look forward to speaking with you and meeting you soon.