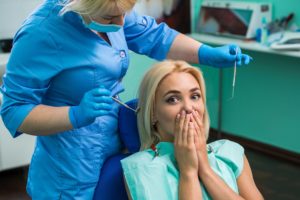 Even though most dental procedures aren't uncomfortable, a significant portion of the population avoids dental visits. It is estimated that between 9 to 20% of people avoid going to the dentist due to dental anxiety. Dental phobia is an intense fear that prevents patients from having dental care, often for many years. Patients with dental anxiety are still able to attend dental appointments, but they may endure a lot of stress and anxiety during the appointments.
Effects of Dental Anxiety
While missing one or two of your dental appointments may not always have a significant dental impact, continuously missed appointments will have a negative toll on dental health. Preventive dentistry allows your dental professional to monitor your oral health. They can offer advice and treatment to avoid potential issues later on. When dental visits are missed often, essential findings or potential matters may not be discovered until it is too late. Usually, when a dental issue is discovered in the late stages, much more aggressive treatment, is needed to fix the problem.
Management of Dental Anxiety
Many options are available to help manage anxiety during dental visits. Each dental office will have different sedation options available, so remember to ask about all the options available to you.
Some offices may offer the option to watch something on TV or may provide you with noise cancelling headphones to take your mind off the dental work being completed.
Sedation Options
Minimal Inhalation sedation:

This is commonly referred to as laughing gas. The laughing gas is mixed with oxygen and dispersed through a mask that is placed over the nose. The dentist controls the amount of gas that you receive with this method. This gas helps you to relax and normally wears off quickly. Most patients can drive home from their dental appointment after a small waiting period.
Oral sedation:

Oral sedation can produce minimal to moderate effects, depending on the amount of sedation used. Minimal oral sedation is usually achieved by taking a pill around an hour before your appointment. While you will still be awake, you will feel drowsy. If you required a higher level of sedation, the dosage is increased. While some people may fall asleep with a higher dosage, they can usually be woken with a small nudge.
IV Sedation:

The sedative is dispersed through your vein. This allows the sedation to take effect quickly. The dentist can adjust the amount of sedation with this option.
General Anesthetic:
These types of medications will make you borderline unconscious or unconscious during your dental visit. You cannot be easily awoken until the effects of the medication wear off or if a counter-acting medication is introduced.
In addition to the sedation option used, you will usually also receive a local anaesthetic in the area that the dental work will be completed. This is to numb any discomfort that may be experienced during the procedure.
If you experience dental anxiety or if you have been putting off much needed dental care, contact us to discuss sedation options that suit you.
About Dr. Joseph Salvaggio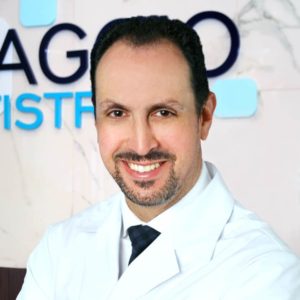 Located in Brampton, Ontario Dr. Joseph Salvaggio has been practicing general, cosmetic, and implant dentistry for over 20 years. He enjoys interacting with his patients and helping to restore their oral health for better overall health as well. Meeting new patients, interacting and educating them is one of Dr. Salvaggio's biggest joys. We encourage you to read our reviews or call us with any dental questions you have. We look forward to speaking with you and meeting you soon.