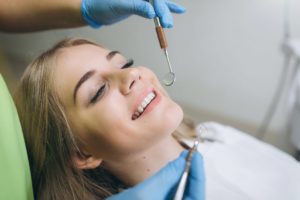 A smile makeover is a makeover that focuses on your smile and your mouth.  It can improve your smile by using one or more different cosmetic dentistry procedures.  Examples of cosmetic dentistry procedures are dental bonding, porcelain veneers, dental implants, Invisalign, braces and teeth whitening.
A smile makeover differs from a full mouth reconstruction because smile makeovers are procedures that you may want, but a full mouth reconstruction is a needed treatment.
Smile Makeover Tips
Once you have decided that you want a smile makeover, you should have a consultation to discuss it with your dentist. During your consultation, they will take into account your facial features. They will also look at the colour, width, length, shape of your teeth, gums and lips. Before your consultation, you should think about what you dislike about your smile and what you like about your smile. Some patients choose cosmetic dental procedures to make their teeth whiter, to close gaps or spaces in between teeth, to straighten their teeth, etc.
Treatment Types
Fillings – Silver dental fillings may be replaced with tooth-coloured composite restoration materials for a natural look.
Teeth Whitening – Dull or stained teeth can be dealt with by bleaching or whitening. This can be done in the office or with take-home whitening kits.
Dental Veneers – These can be used to adjust the size, shape, length and colour of a tooth.
Dental Crowns – Crowns can help to strengthen a tooth when there are large fillings present. They can also improve the tooth's appearance.
Dental Bridge – A dental bridge can help to close the space between teeth when tooth loss occurs.
Composite Bonding – Uses a tooth coloured composite resin to alter the shape or colour of teeth. Composite bonding can also be used to repair small decay, chips, fractures and discoloured teeth.
Dental Implants – These are the best tooth replacement option for missing teeth. They fuse to your natural jaw bone and are made to match the natural look and feel of surrounding teeth.
Invisalign (Invisible Braces) – Invisalign uses clear trays that are easy to remove, unlike traditional braces. These trays gradually and gently shift your teeth into place, closing gaps, straightening your teeth and enhancing your smile.
Gingival Contouring – This procedure is used to reshape the gums to deal with a "gummy" smile and to give teeth the appearance of being longer.
Tooth Lengthening – The use of composite bonding, porcelain veneers or gingival contouring can help to lengthen a tooth.
Tooth Widening – Teeth can also be made wider so that they can close gaps or spaces and match nearby teeth. This is usually done through the use of porcelain veneers.
Diastema Closure – Spaces or gaps between teeth are called diastemas. Diastemas can be fixed with the use of Invisalign, bonding and veneers.
About Dr. Joseph Salvaggio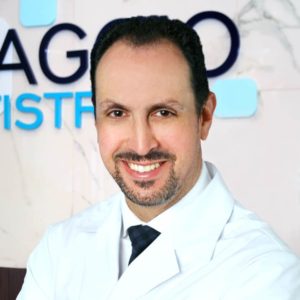 Located in Brampton, Ontario Dr. Joseph Salvaggio has been practicing general, cosmetic, and implant dentistry for over 20 years. He enjoys interacting with his patients and helping to restore their oral health for better overall health as well. Meeting new patients, interacting and educating them is one of Dr. Salvaggio's biggest joys. We encourage you to read our reviews or call us with any dental questions you have. We look forward to speaking with you and meeting you soon.