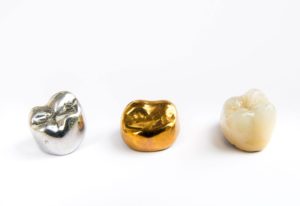 A dental crown is used to strengthen a weak tooth or to restore a tooth that is heavily damaged. A tooth with a lot of decay should not have many dental fillings because there is an increased risk of the dental fillings failing. It is best for that tooth to have a dental crown instead. A weak tooth that is prone to fracturing becomes stronger when a dental crown is placed on top. Dental crowns are also placed on top of dental implants. However, the process requires two dental visits and a temporary dental crown is placed in between the visits.
What Is The Process To Get A Dental Crown?
The process of getting a dental crown requires two separate dental visits in most cases. During the first visit, the tooth is reshaped or prepared so that it can accommodate the permanent dental crown. Prepping the tooth requires removal of some of the tooth structure at the top and around the sides of the tooth. After the tooth is prepped, a dental impression is taken of that tooth. The dental impression may be made with an impression material that is mixed, or with a digital scanner. Salvaggio Dentistry now uses digital scanning.
After an impression is taken of the tooth, it is sent to a dental laboratory. The dental lab uses the impression taken of the crown to create a permanent dental crown. The dental permanent dental crown is made to fit the prepared tooth correctly. It takes between one or two weeks for the permanent dental crown to be ready.
When Is A Temporary Dental Crown Used?
While waiting for the permanent dental crown, a temporary dental crown is placed on top of the prepared tooth to keep it safe. The temporary dental crown may not be an exact colour match to your nearby teeth. Temporary cement material is used for the temporary crown so that it can be removed easily later. Contact us for more information.
About Dr. Joseph Salvaggio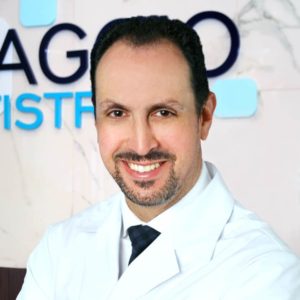 Located in Brampton, Ontario Dr. Joseph Salvaggio has been practicing general, cosmetic, and implant dentistry for over 20 years. He enjoys interacting with his patients and helping to restore their oral health for better overall health as well. Meeting new patients, interacting and educating them is one of Dr. Salvaggio's biggest joys. We encourage you to read our reviews or call us with any dental questions you have. We look forward to speaking with you and meeting you soon.