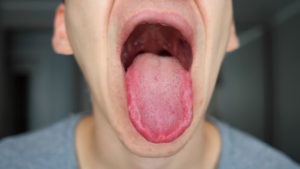 Most of us know that we should brush and floss daily but most of us never think about cleaning our tongue properly or using a tongue cleaner. The tongue can host many types of bacteria and can also be part of the cause of bad breath. The tongue contains many crevices and areas where bacteria can hide so regular cleaning is required. Due to the uneven surface of the tongue, it is easy for bacteria to hide and can be challenging to clean if the right tools are not used.
Isn't Rinsing Enough To Clean My Tongue?
The buildup on the tongue is often biofilm, which is a group of organisms, that adhere to the surface of the tongue and in the crevices of the tongue. Rinsing or drinking water is not enough to remove them from the tongue. The only option to properly remove the bacteria is to physically remove them by scraping them off using a tongue cleaner or tongue scraper.
How To Clean Your Tongue Properly
It is recommended that you brush your tongue every day, as part of your daily routine when brushing and flossing. If you are using a manual toothbrush to clean your tongue, you should brush your tongue back and forth and side to side as well. Rinse with water afterwards to wash away loosened bacteria.
Others find that using a tongue cleaner works better and is less intrusive than using a toothbrush. Tongue cleaners come in different forms, pictured below.
Tongue Cleaner Instructions
You need to position the tongue cleaner at the back of your tongue, press down with enough pressure and pull the cleaner forwards. You may have to try a few times, adjusting the amount of pressure until you can see the buildup on the top of the tongue being removed. Some tongue cleaners may also have bristles on the other side, so you can use them as well if necessary.
If your tongue cleaner is flat, you will need to hold it at each end and bend it until it makes a "u" shape. If it already has a bend, then you just need to hold it at each end. Next, place it towards the back of the tongue and apply downward pressure while pulling it forward or out of your mouth. Ensure that you maintain contact with your tongue while sliding the cleaner forward. You may need to adjust the pressure until you find a pressure point that gives the best results.
Tongue cleaners may be bought in most toothbrush or personal hygiene aisles in your local store.
About Dr. Joseph Salvaggio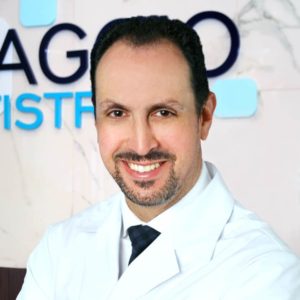 Located in Brampton, Ontario Dr. Joseph Salvaggio has been practicing general, cosmetic, and implant dentistry for over 20 years. He enjoys interacting with his patients and helping to restore their oral health for better overall health as well. Meeting new patients, interacting and educating them is one of Dr. Salvaggio's biggest joys. We encourage you to read our reviews or call us with any dental questions you have. We look forward to speaking with you and meeting you soon.