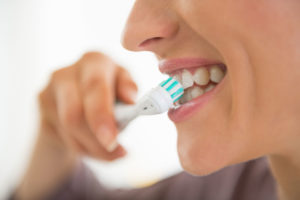 Tooth cleaning aids are items that are used to help maintain oral health. These tools can be used to clean your teeth, gums and tongue to prevent gum disease, dental decay and bad breath. Most of us know about the common cleaning aids such as dental floss, toothbrushes and floss piks. However, there are other tools that are needed for certain dental conditions.
Common Types of Tooth Cleaning Aids
Dental Floss: Dental floss is a thin piece of cord that is used to dislodge or remove food and dental plaque from the mouth. Plaque and food found on the front and back of teeth are relatively easy to remove. However, plaque or food that is found between teeth is difficult to remove. The bristles found on a toothbrush are often too thick to access the areas between the teeth. Dental floss however, is able to easily slide in between teeth. Dental floss comes in a variety of types such as waxed, unwaxed, braided floss and wide floss known as dental tape.
Floss Piks: This tool has a set length of dental floss that is held in place by two plastic ends. Many patients find it easier to floss with this type of tool because it can be used with one hand. As a result, more patients are likely to take up flossing or floss more often.
Toothbrushes: Toothbrushes are used daily by almost everyone. They can be manually operated or electrically operated. Toothbrushes also come with different levels of bristle firmness, however, only soft bristles should be used. Medium or hard bristles will damage the gums and teeth when used aggressively or improperly.
Mouthrinses: Mouthrinses help to dislodge pieces of food, kill certain bacteria and keep your mouth feeling fresh. However, mouthrinses cannot be used as an alternative to cleaning in between teeth with floss or an interdental brush.
Other Types of Tooth Cleaning Aids
Interdental Brush: While not as popular as dental floss, interdental brushes have been proven to be just as effective or even more effective in some studies. Interdental brushes are made in varying brush sizes to fit all areas of the mouth properly. The brushes can be narrow to fit into tight areas or wide to clean large gaps between teeth. Cleaning between teeth and braces is made much easier with the use of these brushes. Patient compliance with using interdental brushes is also much higher due to their ease of use.
Sulcabrush: A sulcabrush is an angled cleaning aid with firm bristles that can be easily adapted to clean the area between the teeth and the gums. It can also be used with one hand.
Tongue Cleaner: A tongue cleaner is used to remove bacterial build-up on the top of the tongue. While you can brush the bacteria away with a toothbrush, a tongue cleaner is much more effective at removing bacteria.
Rubber Tip or Gum Stimulators: A rubber tipped or gum stimulator is a tool that has a piece of pointed rubber on one end. The rubber tip is gently moved around the tooth partially into the area between the gums and the teeth. The tip helps remove dental plaque and left over food debris.
Dental Considerations
While regular use of dental floss, toothbrushes and mouth rinses is a great start, you should ask your dental professional for their recommendations. As your partner in oral health, your dentist or dental hygienist will be able to recommend cleaning aids that are better suited for your mouth and oral conditions.
About Dr. Joseph Salvaggio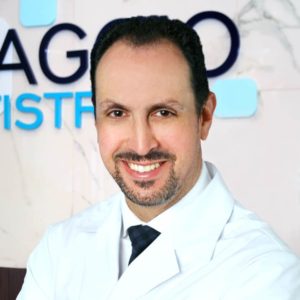 Located in Brampton, Ontario Dr. Joseph Salvaggio has been practicing general, cosmetic, and implant dentistry for over 20 years. He enjoys interacting with his patients and helping to restore their oral health for better overall health as well. Meeting new patients, interacting and educating them is one of Dr. Salvaggio's biggest joys. We encourage you to read our reviews or call us with any dental questions you have. We look forward to speaking with you and meeting you soon.