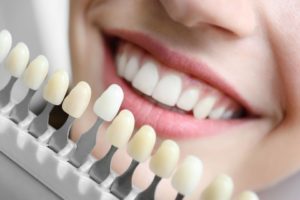 Ask any dental professional, and they will tell you the importance of replacing a missing tooth or multiple missing teeth. Tooth replacement options exist to enable anyone to replace missing teeth regardless of budget or needs. However, most people do not understand how ignoring a missing tooth affects their smile.
Why You Should Replace Missing Teeth
Cosmetic Appearance
For most people, the main reason they replace a missing tooth is to keep the look of their smile. This is especially true when the missing tooth is in the front of the mouth. A missing tooth in the front makes a noticeable difference versus a missing tooth in the back of the mouth.
Chewing Function
Aside from cosmetic changes, function is also affected when one or more teeth are missing. Chewing and speaking function can be avoided if missing teeth are not replaced early enough. When a tooth is missing, the surrounding teeth have a tendency to drift or move into the area left by the missing tooth or teeth. Once teeth begin to move, chewing ability is often reduced because the opposing teeth do not make proper contact with each other. When teeth do not make adequate contact, food is not chewed or broken down properly.
Bone Loss
Loss of bone in the mouth is a significant change that also occurs when a tooth is missing. The only tooth replacement option that will prevent bone loss is a dental implant. All other tooth replacement options will not stop bone loss. Because a dental implant is placed into the jawbone, it acts just like a natural tooth. Pressures from chewing and eating are exerted onto a natural tooth that is then transferred to the jawbone. The pressures stimulate the bone which helps to preserve it. Since a dental implant acts, feels and functions just like a natural tooth, it provides the same benefits.
Tooth Replacement Types
Dental Implant
A dental implant is considered the best tooth replacement option because it offers the most benefits when compared to other replacement types. Other tooth replacement options eventually need to be replaced or modified such as a dental bridge or partial denture. Here are some of the unique benefits that a dental implant provides:
Enhanced appearance – Implants feel and look just like your natural teeth. And because they are designed to fuse with bone, they become permanent.
Proper Speech – Loose or ill-fitting partial dentures or complete dentures result in slurred or unclear speech sometimes. Dental implants offer a secure fit that allows for easy speaking.
Improved convenience and comfort – Unlike wearing a denture that may become loose, an implant is secure and comfortable because they feel like a natural tooth.
Better chewing ability – Dentures that slip or slide while chewing can make eating difficult. Implants function just like natural teeth which allow you to eat any foods you like.
Increased Confidence – Many patients report improved self-confidence because dental implants restore the appearance of their smile with a natural look.
Better oral health – Unlike a dental bridge, implants allow you to easily clean and floss them. Being able to clean the implant easily and around the implant will reduce your risk of developing gum disease. A dental bridge requires special tools to clean them which leads to poor compliance when it comes to cleaning the bridge.
Durable – Dental implants are known for their longevity. Most dental implants will last a lifetime when they are properly cleaned and maintained.
Traditional Dental Bridge
A dental bridge is most commonly chosen by patients to replace a missing tooth because it costs slightly less than dental implants. However, a dental bridge will need to be replaced at some point. The cost of replacing the bridge and the cost of the initial bridge is more than an implant. A bridge cannot be flossed easily like natural teeth and requires a special tool to floss properly. Unlike an implant, a bridge does not preserve jawbone. As a result, the bone and gums in the area of the dental bridge gradually reduce in height, especially if the dental bridge is not properly cleaned and infection sets in. A reduction in height leaves a space between the gums and the dental bridge where food gets stuck while eating. Additional treatment, modification or replacement of the bridge is needed to prevent a food trap.
Implant-Supported Dental Bridge
Use of a dental implant-supported bridge offers all of the benefits of a dental implant. A dental implant-supported bridge preserves jawbone and remains stable over time, unlike a traditional bridge. A solid foundation means that you eat and enjoy any food you like.
Partial Denture
A partial denture is used to replace one or more missing teeth, and it is the least expensive replacement type. A complete denture is used to replace all the teeth in either the top or bottom of the mouth. Over time, a partial denture will become loose and will require modifying or replacement.
Traditional Complete Denture
A traditional complete denture is used to replace all the teeth in the top or bottom of the mouth. A complete denture is used to replace all the teeth in either the top or bottom of the mouth. Complete dentures are also used to replace all the teeth in the top and bottom of the mouth at once. Over time, a complete denture will become loose and will require modifying or replacing.
Implant-Supported Denture
An implant-supported complete denture offers most of the benefits of an implant. Implant-supported dentures can be placed in the mouth using four or more dental implants. The more dental implants that are used, the more bone that is preserved in the mouth.
Cosmetic dentistry allows you to replace missing teeth and dramatically enhance your smile. Regardless of your needs, there are tooth replacement options available to suit every budget and smile.
About Dr. Joseph Salvaggio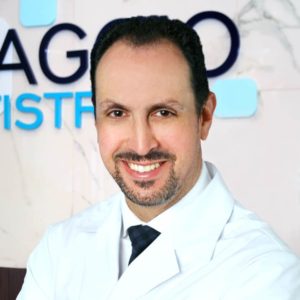 Located in Brampton, Ontario Dr. Joseph Salvaggio has been practicing general, cosmetic, and implant dentistry for over 20 years. He enjoys interacting with his patients and helping to restore their oral health for better overall health as well. Meeting new patients, interacting and educating them is one of Dr. Salvaggio's biggest joys. We encourage you to read our reviews or call us with any dental questions you have. We look forward to speaking with you and meeting you soon.