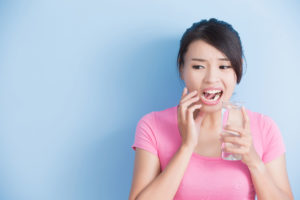 A dental cleaning is also called a hygiene cleaning, scaling, or dental hygiene cleaning. The dental cleaning is performed by a dental hygienist, and less often by the dentist. A dental cleaning focuses on removing soft deposits from the surfaces of the teeth. Soft deposits are also referred to as plaque. Plaque that is not removed in the mouth hardens and becomes tartar or calculus. The goal of a cleaning is to remove all soft and hard deposits using a variety of dental tools. A dental cleaning will reduce the risk of developing cavities or dental decay. While certain patients may experience tooth sensitivity after a cleaning, it is not common to have tooth cleaning sensitivity.
Who May Experience Tooth Cleaning Sensitivity?
The people who experience tooth cleaning sensitivity are patients with existing tooth sensitivity usually. Patients with sensitive teeth have certain dental conditions that are affected during a cleaning. Patients with dental recession probably experience sensitive teeth when eating or drinking cold items. Dental recession is inadequate coverage of the tooth by the gums. In health, the gums cover a third of the tooth. However, with recession, the gums recede or shrink away from the teeth. Gum recession may occur in one area of the mouth or in many areas.
Another reason for sensitive teeth is due to dental abrasion of the teeth and gums. Abrasion is caused by aggressive brushing or using a toothbrush with hard bristles. Aggressive brushing causes damage to the gums and teeth. When the gums are damaged, they recede and leave the tooth root exposed which leads to increased sensitivity.
Patients with severe enamel damage due to acidic wear or acid erosion may experience sensitivity after their dental cleaning as well.
Why Could A Dental Cleaning Result In Tooth Sensitivity?
Patients with sensitive teeth usually use toothpaste that is designed to help reduce the effects of sensitivity. The toothpaste works a variety of ways, but one popular way is to block the tubules that transmit the signal to the nerve of the tooth. The tubules are blocked by brushing with the toothpaste over time, where it builds a wall to block the tubule. During a cleaning, the wall formed by the toothpaste is removed along with dental plaque and tartar buildup. As a result, patients may experience sensitive teeth temporarily.
What Can You Do?
If you normally use sensitivity toothpaste, continue to use that toothpaste after your dental cleaning to help block the open tubules. Avoid having foods or drinks that are acidic. Examples of these items include coffee, tea, orange juice, apple juice, wines, alcohol, limes, lemons, etc. Avoid use of teeth whitening products immediately before your dental cleaning and after your dental cleaning.
Let your dentist or dental hygienist know if you have sensitive teeth. They may be recommend a fluoride varnish for your teeth that helps to reduce the effects of sensitivity.
Sensitivity toothpaste may take up to three weeks of use to notice the desensitizing benefits. If your tooth sensitivity does not go away after two to three weeks, contact your dental office to let them know.
About Dr. Joseph Salvaggio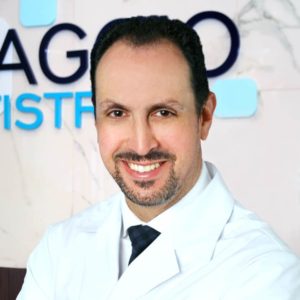 Located in Brampton, Ontario Dr. Joseph Salvaggio has been practicing general, cosmetic, and implant dentistry for over 20 years. He enjoys interacting with his patients and helping to restore their oral health for better overall health as well. Meeting new patients, interacting and educating them is one of Dr. Salvaggio's biggest joys. We encourage you to read our reviews or call us with any dental questions you have. We look forward to speaking with you and meeting you soon.