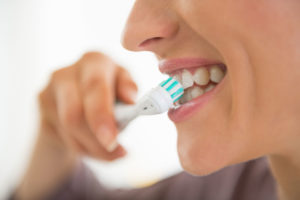 Every dentist and dental hygienist agrees that regular brushing at least twice daily is essential to maintain oral health.  Most dental professionals recommend brushing your teeth at least twice daily, especially before going to bed.  It is important to brush before going to bed, to clean your teeth of all the food particles from the day.
Toothbrush abrasion usually occurs near the gum line and is characterized by teeth having a notched type look near the gum line. In severe cases, your tongue will be able to feel the notch in your tooth or teeth. Gum tissue may also be damaged or lost due to the severity of aggressive brushing or the type of toothbrush used. Some patients may experience sensitivity to foods and changes in temperature as well since the enamel has been removed or damaged.
What Causes Toothbrush Abrasion?
Tooth abrasion is most commonly caused by using a toothbrush with bristles that are too hard. Dental professionals recommend that you only use a toothbrush with soft bristles, never with medium or hard bristles. For some people, it may feel like their teeth are not being appropriately cleaned when a soft toothbrush is used. Brushing your teeth using the correct brushing technique will properly clean your teeth with soft bristles. If you are not sure what the proper method is, ask your dental health professional to show you the next time you visit them or read this post.
People who brush obsessively may cause toothbrush abrasion as well due to accelerated wear of their teeth. If cleaning obsessively or over-brushing is done with the use of a medium or hard bristled toothbrush, the abrasion or damage to the tooth will be more severe.
What Can I Do To Prevent It?
Always remember to select a soft toothbrush. If you are currently using a medium or hard bristled toothbrush, buy a soft toothbrush and start using that right away. Familiarize yourself with the correct brushing technique by clicking the link above or by asking your dental health professional. While it is usually great to brush your teeth after each meal, you should avoid brushing your teeth right away if you have eaten acidic foods. Eating acidic foods can weaken your tooth's enamel for up to half an hour. It is recommended that you rinse your mouth thoroughly after consuming acidic foods. You should wait for at least 30 minutes then proceed to brush your teeth. This allows your saliva to remineralize your teeth.
How Can Toothbrush Abrasion Be Treated?
Dental bonding may be used to repair the damage. If gum tissue was damaged or lost, gum grafting might be used as well. If there is sensitivity associated with toothbrush abrasion, dental bonding may be able to alleviate those symptoms.
About Dr. Joseph Salvaggio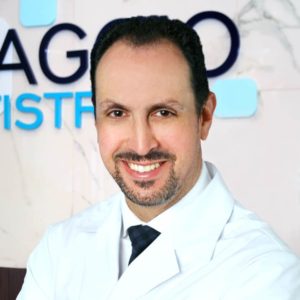 Located in Brampton, Ontario Dr. Joseph Salvaggio has been practicing general, cosmetic, and implant dentistry for over 20 years. He enjoys interacting with his patients and helping to restore their oral health for better overall health as well. Meeting new patients, interacting and educating them is one of Dr. Salvaggio's biggest joys. We encourage you to read our reviews or call us with any dental questions you have. We look forward to speaking with you and meeting you soon.