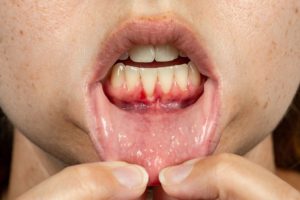 A frenum is also referred to as a frenulum. It is a tissue fold that connects soft tissue in the mouth. Sometimes it contains muscle tissue. There are two frena present in the mouth. The upper frenum attaches the lip to the gum tissue. It is called the maxillary labial frenum. The maxillary labial frenum is located above the two top teeth. The second frenum is called lingual frenum, and it connects the floor of the mouth to the tongue.
Frenum Complications & Symptoms
You may have heard the term tongue-tied before. Tongue-tied refers to an overgrowth of the lingual frenum. In this condition, the tongue is not allowed to have a wide range of motion. Most patients can live their entire life without having to address the issue. In cases where the lingual frenum attaches and extends to the tip of the tongue, a frenectomy is required. If a person is lip-tied, that means the labial frenum that connects to the top lip and the gum is overgrown or extends too far down the gums. Being both tongue-tied and lip-tied is possible.
Tongue-tied symptoms include:
Difficulty when nursing as an infant and when eating after the infant years
Difficulty speaking or speech impediments
Discomfort or pain
Periodontal problems (recession or receding gums)
Misaligned bite or thrusting of the tongue
Lip-tied symptoms include:
Discomfort and pain
Difficulty nursing
Periodontal issues (recession or receding gums)
Misaligned bite and teeth (gaps between teeth)
What Is A Frenectomy?
To some, hearing the word frenectomy or surgery is worry-some. However, a frenectomy is a simple dental procedure that involves the removal of excess frenum soft tissue in the mouth, or complete removal of the frenum. Before a frenectomy is performed, a variety of factors are considered first. In some cases, the condition may correct itself or result in milder symptoms as the person ages. This is a quick procedure that has a relatively fast healing time as well.
As oral health providers, we are concerned with all areas of the mouth, not just the teeth. If you believe that you or your child has symptoms of being lip-tied or tongue-tied, call us to schedule a complimentary, no-obligation consultation.
About Dr. Joseph Salvaggio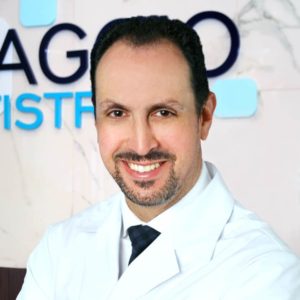 Located in Brampton, Ontario Dr. Joseph Salvaggio has been practicing general, cosmetic, and implant dentistry for over 20 years. He enjoys interacting with his patients and helping to restore their oral health for better overall health as well. Meeting new patients, interacting and educating them is one of Dr. Salvaggio's biggest joys. We encourage you to read our reviews or call us with any dental questions you have. We look forward to speaking with you and meeting you soon.