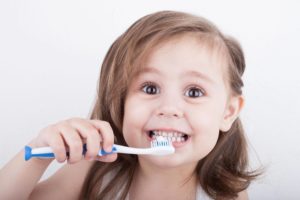 When your child's teeth begin to appear in the mouth, they become susceptible to many dental issues, if precautions are not taken. Foods such as baby formula, breast milk, formula, cow milk and different types of fruit contain sugar. These sugars can cause damage to the teeth when they are left in contact with the teeth for extended periods of time. When cavities develop quickly in toddlers and infants, it is referred to as Early Childhood Tooth Decay or ECTD. ECTD usually affects children that are under the age of five.
Babies who go to sleep or go to bed with a bottle filled with milk, juice, formula, or any other type of drink that contains sugar, can develop early childhood tooth decay. Sleeping with a bottle, allows the sugary liquid to pool in the mouth. When this pooling occurs, it increases the risk of dental decay, due to the increased exposure to sugar. A minimal amount of children who are being breastfed can develop ECTD, but it usually only occurs when breastfeeding occurs at night or multiple times during the night.
Helpful Tips To Prevent ECTD
Once your child's teeth begin to erupt in the mouth, it is essential to check them at least once a month, to monitor for signs of ECTD. You should look for white spots that have a dull appearance. Teeth may also begin to develop lines on them. These lines usually form near the area where the gum and the tooth meet or the neck of the tooth. Teeth that are brown or dark may also indicate dental decay.
If your child is used to having a sugary drink in their bottle when they go to sleep, it will be difficult to get them to stop the habit of having a sweet drink right away. You can try to mix water in the drink to help lower the amount of sugar that they are exposed to. Begin by diluting their drink a little at a time, until you made to change to only water in their bottle.
Other tips that will help:
Use plain water in the bottle
Try to substitute the bottle with a soother, blanket or toy
Do not give them a sugary drink even if they cry
Try to comfort them and try introducing a bottle with water again
Encourage them to drink from a cup when they are at least one year old
Use a pea-sized amount of fluoride toothpaste when brushing their teeth, beginning at age three
If you notice any signs of early childhood tooth decay, call us right away. The earlier that you get it checked out, the less pain and possible infection that your child will have to endure. If you are not sure if your child has signs of ECTD, schedule an appointment with us so we can monitor your child's oral health.
About Dr. Joseph Salvaggio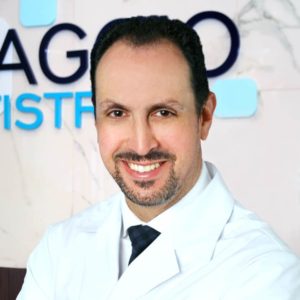 Located in Brampton, Ontario Dr. Joseph Salvaggio has been practicing general, cosmetic, and implant dentistry for over 20 years. He enjoys interacting with his patients and helping to restore their oral health for better overall health as well. Meeting new patients, interacting and educating them is one of Dr. Salvaggio's biggest joys. We encourage you to read our reviews or call us with any dental questions you have. We look forward to speaking with you and meeting you soon.