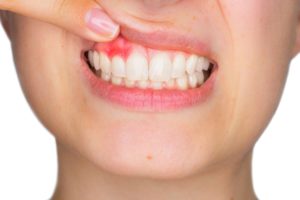 Gingivitis is commonly known as gum disease and affects gum tissue. Gingivitis is reversible with regular oral care. However, untreated gingivitis progresses to periodontitis. Periodontitis involves the permanent loss of gum and bone tissue in the mouth. Additionally, untreated periodontitis causes tooth loss.
Symptoms include:
Inflamed or swollen gums
Tender gums instead of firm gums
Gums that bleed easily
Red or dark red coloured gums instead of a reddish-pink colour
Bad breath
Gingivitis is not the same as pregnancy gingivitis which is a temporary condition that affects pregnant women.
What Causes Gingivitis?
Gum disease is caused by bacteria in the mouth. The bacteria make up the plaque and tartar that is found around the teeth and under the gums. Gingivitis occurs due to bacteria and plaque that was not removed.
Risk Factors For Gum Disease Include:
Poor or improper oral care
Use of tobacco products
Xerostomia or dry mouth
Inadequate or poor nutrition
Diabetes
Pain while chewing and eating
Improperly fitted dental restorations
Ill-fitting dental appliances
Misaligned or crooked teeth which make cleaning difficult
Immunocompromised individuals
Certain drugs (steroids, oral contraceptives, calcium channel blockers, anticonvulsants
Hormonal changes, especially related to pregnancy
Genetic factors
Preventing Gingivitis
Regular Home Care:
Preventing gum disease involves routine oral care at home. Brushing twice daily and flossing once daily is recommended. However, proper oral care techniques and cleaning tools are needed for maximum effectiveness. Learn about different types of tooth cleaning aids here.
Professional Dental Hygiene Visits:
In addition to regular oral care at home, regular dental visits are necessary. While the oral care you perform at home makes a big difference, there are limitations to cleaning aids. Floss is not sufficient when cleaning deep areas under the gums. Patients with deep areas or pockets in the gum need their dental professional to clean these areas. Periodontal disease develops in improperly cleaned areas. Eventually, bone and tooth loss occurs in these areas without proper dental care.
Dental Exams:
Regular dental exams and check-ups are needed to assess oral health and determine the treatment to improve oral health. An overall assessment of your oral health to identify areas of concern, and to determine how often you will need a professional cleaning by your dental professional. Dental exams or check-ups often involve the use of dental x-rays when identifying bone loss and other dental issues. Learn why dental x-rays are necessary.
What's Next?
If you have gingivitis or think you have the symptoms, ensure that you see your dental professional. It is important to reverse gum disease before it progresses to periodontitis. Call us to schedule your appointment now: 289-569-0722
About Dr. Joseph Salvaggio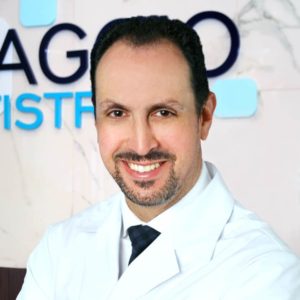 Located in Brampton, Ontario Dr. Joseph Salvaggio has been practicing general, cosmetic, and implant dentistry for over 20 years. He enjoys interacting with his patients and helping to restore their oral health for better overall health as well. Meeting new patients, interacting and educating them is one of Dr. Salvaggio's biggest joys. We encourage you to read our reviews or call us with any dental questions you have. We look forward to speaking with you and meeting you soon.