Cost of Dental Implants – Brampton, ON
Invest in a Brand-New Smile
Many patients are hesitant to replace their missing teeth with dental implants because they don't want to spend a lot of money. At Salvaggio Dentistry, we completely understand. That's why we wouldn't recommend dental implants unless they were well worth the investment – and they definitely are! Continue reading below to understand more about why you should invest in a brand-new smile with dental implants.
Why Choose Salvaggio Dentistry for Dental Implants?
Free Consultation
Entire Procedure Performed Under One Roof
Able to Look Great and Function for a Lifetime
Types of Dental Implants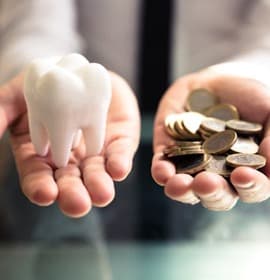 There are many factors that can influence the cost of dental implant placement, such as the number of implants you're receiving. A single implant topped with a crown will cost significantly less than multiple implants supporting a dental bridge or denture, for example. There are also different types of dental implants from different manufacturers, which may come at different costs. During your initial consultation with your implant dentist in Brampton, we'll discuss the details of the procedure with you as well as your options for the type and number of implants you should receive.
What are the Stages of Dental Implant Treatment?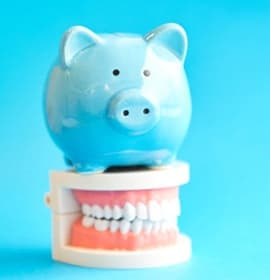 Every stage of the dental implant placement process incurs a unique cost. Don't worry, however. You won't have to pay for the entirety of your new grin at once. Because treatment takes place over the course of several months, you can pay for your treatment one procedure at a time. Some of what you can expect to pay for might include:
Preliminary procedures like tooth extractions, bone grafts, or gum disease treatment
The implant placement surgery itself
Placement of the abutment, or the metal connector that attaches the implant to the restoration
Placement of the final restoration (a crown, bridge, or denture)
Are Dental Implants Worth the Investment?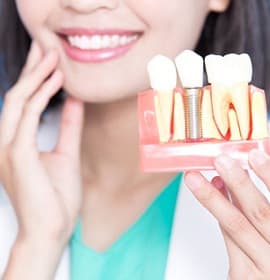 The answer to this question is an emphatic yes! While dental implants typically cost more up front than other methods of tooth replacement, you will actually end up saving money in the long run. This is because implants have the potential to last for several decades, if not for the rest of your life, with minimal maintenance involved. They don't need to be replaced every few years like bridgework or dentures. Moreover, they look and feel like a completely natural part of your smile, and it's nearly impossible to put a price on that benefit. Implants also prevent bone loss in your jawbone, which keeps you looking young and vibrant. Most patients who have received dental implants have said that they were more than worth the investment.
Does My Dental Insurance Cover Dental Implants?
The good news is that more and more insurance companies are starting to offer coverage for dental implants. However, you'll have to check your individual policy to find out just how much coverage you're eligible to receive. If it does not cover the cost of the implant itself, it may help with preliminary procedures, like gum disease treatment, for example. We at Salvaggio Dentistry accept most major insurance policies, and we will work with you to help maximize your benefits and even file your claims for you so you can get those benefits as soon as possible.
Are you ready to have your smile completely transformed? Contact us today to schedule your FREE dental implant consultation.